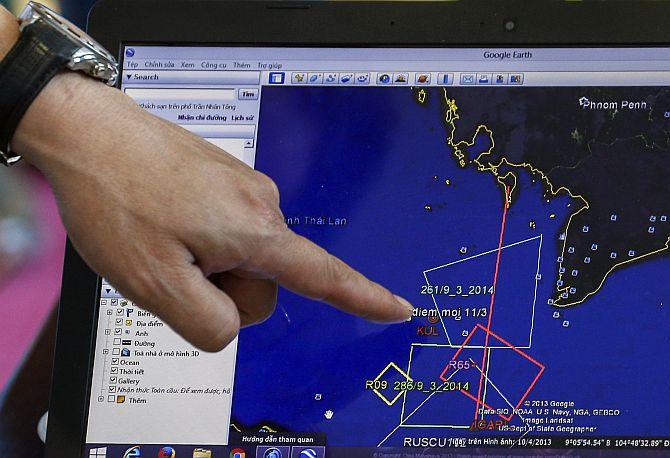 Annoyed over conflicting reports about the missing plane, China on Wednesday night asked Malaysia to verify rumours and share all information about the flight MH370 after official admission that it may have turned back and disappeared over the Straits of Malacca.
"We have send requests to the Malaysian side through diplomatic channels, asking them to check up on rumours right away and inform China of all information available," foreign ministry spokesman Qin Gang said in a statement.
Qin's remark came after a Malaysian military official said the missing flight may have changed route and turned back from its scheduled course before disappearing last Saturday. Anxieties mounted in China as 154 of the 227 passengers are Chinese and their relatives are annoyed over the confusion and lack of progress even five days after the incident.
Malaysia air force chief Rodzali Daud had said a "blip" detected on the military radar may have been the missing flight MH370 in an area northwest of Penang in the Straits of Malacca, amid uncertainty over where to look for the plane that disappeared with 239 people on board.
Based on this possibility, multinational search operation was expanded to the Strait of Malacca and South China Sea with more countries joining in the mission. Forty-two ships and 39 aircraft have been deployed so far in the hunt for the missing plane that vanished on its way from Kuala Lumpur to Beijing. It is still not known what prompted this confusion and why Malaysian officials has to suppress this information. If it is true it also throws up a whole lot of questions including why the plane took a U turn and flew over Malacca straights without informing the ground controls.
Malaysian officials said so far there is nothing to point out to any act of terrorism and cleared two Iranians who travelled by stolen Italian and Austrian passports. India, Japan and Brunei were the latest to join in a massive search mission.
When asked by state-run Xinhua news agency about reports that dead bodies were found near Penang, Qin said he could not verify this. Meanwhile, Chinese Premier Li Keqiang visited the emergency response and command centre here to learn the latest about the search operation. The Chinese team is now expanding their search area to northwest of the Gulf of Thailand, covering some 17 thousand square km in total.
China has also employed 10 satellites to provide technological support to locate the missing jet. Also China today termed reports of its planes searching Malaysian territory for clues as "inaccurate" as the search operations extended to waters around Andaman islands.
"Relevant reports of Chinese search in Malaysia is inaccurate. As far as I know, Chinese aircraft are searching possible waters. So I would like to make a clarification here," Qin told a media briefing earlier.
He was reacting to comments by chairman of China's civil aviation administration Li Jiaxiang that search would be extended to land areas.
Image: A map of a flight plan is seen on a computer screen during a meeting before a mission to find the Malaysia Airlines flight MH370 that disappeared from radar screens in the early hours of Saturday, at Phu Quoc Airport on Phu Quoc Island. Photograph: Athit Perawongmetha/Reuters