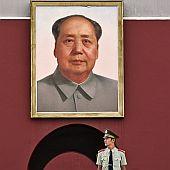 Wary of disgraced Chinese Communist Party leader Bo Xilai staging a comeback with pro-Maoist rhetoric at a later stage, the Party, which is holding its Congress next month to select once in a decade leadership, dropped "Mao thoughts" from a key document, according to a media report.
The 24-member-strong Politburo which met under the leadership of President Hu Jintao in Beijing on Monday to finalise crucial documents to be adopted by the forthcoming 18th Congress party dropped references to founder leader Mao's thoughts.
While highlighting several guiding tenets of party doctrines by President Hu Jintao, his predecessors Jiang Zemin and Deng Xiaoping, "Mao Zedong thought", one key term missing was missing from the document.
This absence has led some China watchers to wonder whether Party might be moving to play down the philosophy of its late patriarch in the 18th national party congress, Hong Kong based South China Morning Post reported.
The term retains significance as a founding party doctrine and Mao continues to be revered by many, a fact demonstrated by disgraced Chongqing party boss Bo Xilai's controversial campaign to revive "red" songs and culture, it said.
"Bo's red campaign and his popularity for the endeavour might have triggered fear among some reform-minded leaders that Maoism might still be popular among those left in the cold in Deng Xiaoping's capitalistic economic reform," it quoted Zhang Ming, a political scientist at Renmin University as saying.
About 300 academics and former party officials wrote an open letter to the country's legislature, National People's
Congress, (NPC) urging it not to expel Bo as it would deprive him of legal immunity.
Hong Kong-based political commentator Johnny Lau Yui-siu said party leaders would not jettison Mao's philosophy.
"The Communist Party stresses much on inheritance of traditions," Lau said.
"If it is allowed to take out Mao's thoughts just because there are some doubts, then one day, people may call for taking out the ideas of Deng and Jiang".
Mao's philosophy began fading out of the Party's ideology after his death as his successor Deng opened up the Party and the country for massive economic reforms, which leaders say fired China to emerge as the second largest economy of the world.
As Hu and his fellow leaders set to step down after a decade long leadership on a high note of economic achievements, the shadows of Mao lingered around mainly due to the growing class divide between rich and the poor.
Bo and his associates played up this before getting embroiled in a scandal involving his wife, who was given a suspended death sentence for the murder of a British businessman.
Bo who has been sacked from the party is awaiting trial, which many say may take place well before the Nov 8, Party Congress.