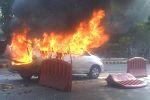 Delhi Union of Journalists President Sujata Madhok, General Secretary S K Pandey and other members have welcomed the Supreme Court order granting bail to Syed Mohammad Ahmed Kazmi who has been behind bars since March in the Israeli diplomat car attack case.

"Kazmi, a 50-year-old scribe, was working for an Iranian news agency in Delhi and also for the state-run Doordarshan. He has been accused of providing information leading to the attack on an Israeli diplomat. He has denied the charges against him," DUJ said in a press release.

DUJ office bearers and members including Sujata Madhok, S.K. Pandey, Jal Khambata, Iftikhar Gilani, Javed Naqvi, John Cherian, Seema Mustafa met Kazmi's family at their home and felicitated them. 

"A few hundred people from Kazmi's village, community, neighbourhood and extended family and also some journalists were present at the jail to receive him. Kazmi was driven home in a huge motorcade," said Pandey. 


Members of the Jamia Teachers Solidarity Group were also present at the jail to witness Kazmi's release. 

DUJ members and the Jamia Teachers Solidarity Group led by Manisha Sethi, veteran journalists including Syed Naqvi, as well as Indian Women's Press Corps General Secretary T K Rajalakshmi were also present.

Kazmi's family and their lawyer Mehmood Pracha later met to discuss the case, its coverage by the media and the legal implications for press freedom and human rights issues.

The DUJ has decided to work jointly with secular groups and individuals on common issues of solidarity with Kazmi. DUJ called for a united front to look into all aspects of the Kazmi case and its ramifications for journalists at large. They also called upon the media to ensure that all sides of the case are reported in public interest.

The DUJ fears that Kazmi may have been unwittingly caught up in an inter-country political and diplomatic crisis of this nature. Senior journalist Seema Mustfa, however, disagreed with the suggestion. "I do not agree that he was caught unwittingly. What proof do we have of that," she said. 

"DUJ follows the Constitutional and legal principle that a person must be treated as innocent until and unless convicted. We advise our members, particularly those on the crime and legal beats, to bear this dictum in mind while filing their reports and stories. We should be wary of stories planted by police and by vested interests. Sensationalism is an easy trap to fall into but we must remember that we are dealing with the lives and reputations of people," the release said.

Kazmi was arrested on March 6 by the Special Cell of the Delhi Police on the charge of helping Iranian agents to conduct a reconnaissance of the area around the Israeli embassy in his car. A motorcyclist, allegedly Iranian, had planted a bomb on a car of the Israeli embassy on February 13, causing injuries to the occupants including the wife of the Israeli defence attache. Police named four Iranians in the charge-sheet filed belatedly last month. The Iranians, the police say, fled India after the attack.

Israel had blamed Iran for the attack but Tehran denied any involvement. The arrest of Kazmi came allegedly under foreign pressure on the government. 

The DUJ advised its members to exercise great caution and ensure unbiased and balanced reportage of such cases in the future.