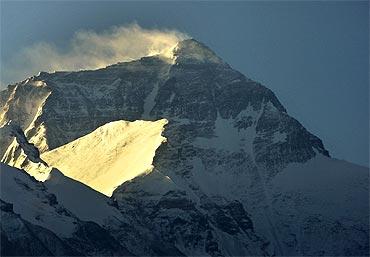 Ending a long-standing dispute about the height of world's tallest mountain, Nepal and China have agreed to recognise the snow and rock height of Mount Everest, official sources said on Thursday, a report in Telegraph UK stated.
The great mountain lies on the border between the two countries and they have disagreed for nearly 150 years over its exact height, which Nepal had put at 8,848 metres (29,029 feet) -- nearly 13 feet more than the measurement used by China.
However, officials revealed in talks in Kathmandu this week that the two measurements referred to different things -- one to the height of Everest's rock and the other to the height of its snow cap.
"Both are correct heights. No measurement is absolute. This is a problem of scientific research," said Raja Ram Chhatkuli, director general of Nepal's survey department, the report also stated.
Scores of mountaineers from across the globe have climbed Mount Everest since the first ascent in 1953 by Sherpa Tenzing Norgay and Sir Edmund Hillary, but its exact height has been a source of dispute ever since the first measurement was made in 1856.
The broadly accepted height of 8,848 metres was first determined by an Indian survey in 1955, and measured the mountain's snow cap, rather than the rock beneath it.
To complicate matters, geologists believe Everest is growing as India is gradually pushed beneath China and Nepal by the shifting of the continental plates, the report added.
Image: Wind blows snow off the summit at sunrise of Mount Everest |  Photograph: David Gray / Reuters