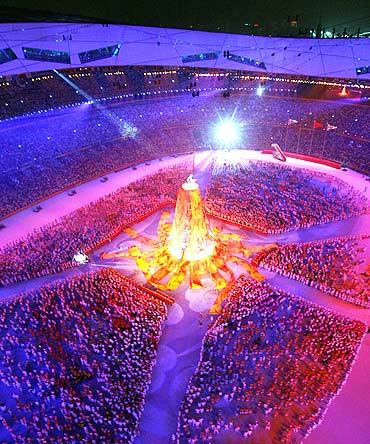 Chinese authorities foiled at least eight terror attacks before the Olympic Games in Beijing in 2008, according to a new book.
The book was jointly released by the World Health Organisation and the Beijing Olympic City Development Association, according to a report in the South China Morning Post.
The paper says that the book carries little information about which terrorist or terror outfit was responsible for the threats. But the terror attempts included an unidentified white powder sent to foreign embassies, a subway blast, dynamite at Beijing's international airport and a biochemical terror attack at the Games venues. 
Five embassies in Beijing received mails containing a white powder in May 2008, says the book, but doesn't elaborate on which embassies were targeted or what the power was.
The book also describes the elaborate precautionary measures undertaken by the authorities to ensure that the Olympic Games, one of the biggest events in the world, passes off without a hitch.
The Post quotes the book as saying that eleven key biological safety laboratories, toxic bacterial banks and transportation companies working with toxic chemicals were kept under a watch by the government.
The authorities drew up emergency plans to handle terror strikes, kept a strict watch over radioactive material and nuclear devices, and regularly interacted with police, transport and immigration units to monitor likely risks, says the daily.
The Communist nation reportedly spent a whopping US$300 million on making the Games terror-free and deployed over 90,000 security officials, says the book.
Image: Fireworks explode during the closing ceremony of the Beijing 2008 Olympic Games at the National Stadium in Beijing | Photograph: Kim Kyung-Hoon/Reuters