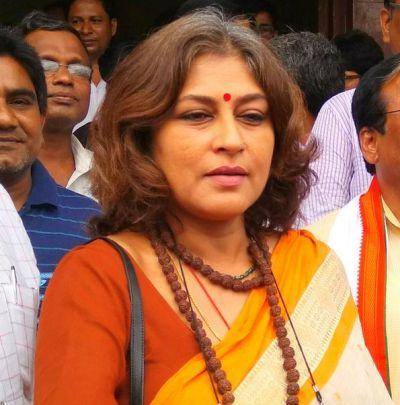 The West Bengal Criminal Investigation Department on Saturday questioned Bharatiya Janata Party's Rajya Sabha MP Roopa Ganguly in Kolkata in connection with a child trafficking case in Jalpaiguri, a senior official said.
A team of the agency's officers went to Ganguly's south Kolkata residence to question her over her alleged meeting with former BJP women wing general secretary Juhi Chowdhury, an accused in the case who was under arrest, a senior CID official said.
The CID had unearthed a child trafficking racket earlier this year under which babies and children were allegedly sold, some to foreigners, through illegal adoption deals.
Ganguly later told reporters, "They wanted to ask some questions to solve the case and understand the situation. I told them what I knew. There is no charge against me. It is a political vendetta. I am saying this from day one. They are wasting my time."
Alleging that false cases were slapped against BJP workers in the state, the Rajya Sabha MP said she believed that Chowdhury was "not guilty".
The state CID had also summoned BJP national general secretary Kailash Vijayvargiya and two other leaders for questioning in the same case.
The probe agency had arrested several people, including the head of a child protection agency in Darjeeling and a member of a child welfare committee, on charges of child trafficking.
Those arrests were part of a widening probe into the adoption racket at the Bimala Shishu Griho, a children's home in Jalpaiguri town.
Chowdhury and the chief adoption officer of the children's home, Sonali Mondal, the home's chairperson Chandana Chakraborty and her brother Manas Bhowmik were arrested earlier.
They have been charged with selling about 17 children, aged between one and 14 years, to foreigners while falsely claiming that the children were handed over for legal adoption to needy couples after due screening and official procedures.
The CID had unearthed the child trafficking racket during raids at homes and nursing homes in the Baduria area of North 24 Parganas district, in Behala in the southern fringes of Kolkata and some other parts of south Bengal in November last year.