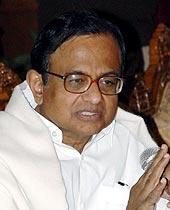 Union Home Minister P Chidambaram inaugurated a three-day long conference of directors general and inspectors general of police organised by the Intelligence Bureau in New Delhi on Monday. Prime Minister Manmohan Singh is scheduled to address the conference on Tuesday.
During his address, the home minister warned the senior police officials that cross-border terrorism 'is a matter of deep concern' and policing in India was always a challenge that has become graver after the terror attack on Mumbai.
He also talked about the burgeoning alliance between Maoists and separatist militants in the North East and expressed his concern about the delay in the implementation of police reforms.
Here is the text of Chidambaram's speech:
We meet under circumstances that pose formidable challenges to the security of the nation. The attacks in Mumbai on 26th November 2008 were a game-changer. We can no longer afford to do business as usual. Policing in India was always a challenge; after 26/11, the challenge has become more grave. Beginning today, over three days, I urge you to take stock of the prevailing security scenario, to discern significant trends that impact law and order, to assess the preparedness of the security system, to identify the existing vulnerabilities and suggest measures to overcome them, and to share the best practices and experiences.
India's security faces many threats from many sources. Broadly speaking, the main sources of threat are terrorism, Left Wing Extremism, and insurgency in certain States. While violence is a common thread that runs through the three main sources of threat, there are significant differences between one kind of threat and another. The Government's response to the different sources of threat cannot be undifferentiated.
Cross border terrorism is a matter of deep concern. Terrorist groups including LeT and JeM persist in their endeavour to launch terror attacks. They continue to innovate new ways and means of deniability. They find support among disgruntled elements within India. Cells and modules within India lend an Indian character to these activities. Through community policing and other innovative measures we must detect and deny any opportunity to our adversaries. Intelligence is the key. We were able to bust 12 terrorist modules in 2008 and, in the first half of the current year, we have been able to neutralize 13 modules.
Left Wing Extremism purports to be a radical form of communism. Today, various groups adhering to this outdated ideology have their pockets of influence in 20 States across the country. Over 2000 police station areas in 223 districts in these States are partially or substantially affected by the menace. The CPI(Maoist) remains the most potent of the naxal groups with a presence in 17 states and a 90% share in naxal violence. Recent decisions taken by its Politburo indicate that the CPI(Maoist) is determined to expand its activities into newer areas, on the one hand, and intensify its 'mass resistance' in the existing areas, on the other. Violence, the most visible aspect of naxal menace, has been consistently witnessed in about 400 police station areas of around 90 districts in 13 of these States. Last year, a total of 1591 incidents of naxalite violence resulting in 721 killings were reported from 399 police station areas of 87 districts of 13 States. This year 1405 incidents of naxal violence resulting in 580 killings have already been reported (upto August 27) from 355 police stations in 78 districts in 11 States.
The CPI(Maoist) has also improved upon its military wares and operational tactics. Besides targeting the police, alleged police informers and so-called class enemies, it is laying greater emphasis on attacking economic and development infrastructure such as roads, bridges, railways, power and telecommunication networks. With increasing sophistication in fabrication and deployment of Improvised Explosive Devices (IEDs), it has inflicted more casualties on the security forces (SFs). As many as 80 SF personnel were killed in 53 landmine-based attacks by the CPI(Maoist) in 2008. 123 SF personnel have lost their lives so far in 61 landmine-based Maoist actions this year. Altogether, 231 SF personnel were killed in naxal violence in 2008 while 250 SF personnel have lost their lives this year.
In a bid to expand its network and influence, the CPI(Maoist) has been seeking alliances with secessionist and terrorist elements in the country. It has been keenly seeking ideological resonance and tactical understanding with the North-East insurgents and has begun to lend support to their secessionist ideology and demands.
Endemic insurgencies in the North-East are yet another security challenge before the country. The trend of gradual deterioration in security situation during the last several years seems to have been checked this year with relative decline in overall violence. Sharp shrinkage in social resonance has rendered the ULFA a much weaker organisation. A significant chunk of the NDFB chosing to abjure violence and seek redressal through constitutionally available means has marginalized the anti-talks faction and has led to a perceptible reduction in violence in lower Assam. The hill districts nevertheless remain disturbed. We welcome the recent decision of the DHD(J) to surrender arms, remain in camps and talk to the Government of Assam on their demands. The security situation has improved perceptibly in Meghalaya and Tripura where insurgencies have been contained successfully. Regretfully, Manipur remains resistant to counter-insurgency interventions. It is the most insurgency-affected state in the North-East.
Insurgency in the North-East has been sustained to a significant extent due to an extensive international border, safe sanctuaries in the neighbouring countries and easy availability of sophisticated arms in South-East Asia. Large scale diversion of development funds to the militants gives them easy access to critical resources which helps them recruit new cadres as well as procure arms. This Conference should dwell on finding workable ways and means to curb illegal diversion of funds to the militants.
A re-assuring development is the steady improvement in the security scenario in J&K. The impressive turn out in the Assembly elections in 2008 and the smooth conduct of the Lok Sabha polls in 2009, in the face of a boycott call by the separatists, have been a major setback to the separatists and their mentors across the border. However, there are attempts from across the border to forge unity among the separatists and escalate violence. The J&K police and security forces operating in the State must not lower their guard in the backdrop of recent improvement in the situation and be ever vigilant against likely attempts to step up violence.
Be they terrorists, Left Wing Extremists or insurgents, they often take advantage of our systemic constraints. The police forces work within the existing legal framework and normally remain operationally confined to their respective States. Terrorists, extremists and insurgents do not face such constraints. An effective strategy to neutralise them is predicated upon an institutionalised mechanism for intelligence sharing and operational coordination among the police forces across the country. Government has created and empowered the Multi Agency Centre(MAC), located in the Intelligence Bureau, as a dynamic institution for intelligence coordination on counter terrorism. Its charter and responsibilities have been defined by the executive order of December 31, 2008. A 24 X 7 control room in MAC has become operational. Similar control rooms at 29 Subsidiary Multi Agency Centres (SMACs) in different States have been set up. A process has been set in motion to create Data Centres in all the State capitals as well as an electronic network between MAC, SMACs and Special Branches of all the States. MAC is also in the process of creating a central database on terrorists and related issues.
Let me state our position clearly. On terrorism, our stance is zero tolerance. We shall raise our level of preparedness to fight any terror threat or terror attack and, in the case of a threat or attack, our response will be swift and decisive. On Left Wing Extremism, we are of the firm view that there is no place for an armed liberation struggle in a Republican democracy. We urge the Left Wing Extremists to abjure violence and talk to the Governments concerned on any issue, especially development, that affects the people. On insurgency in the North East, we urge the insurgent groups to lay down arms and hold talks with the Governments concerned on matters relating to governance, development, cultural identity etc.
In the past nine months we have taken a number of measures to build capacity and raise the level of preparedness to meet threats to our internal security. Many of these measures are quite commonplace. These include filling vacancies in the constabulary; raising more battalions; establishing more police stations; acquiring better and more arms and ammunition; acquiring vehicles, motorbikes and communication equipment; retraining the men and women; and introducing technology to augment the effectiveness of the police force. The measures that we have taken were long overdue and, in a sense, exposed the neglect and tardiness of the past. The Centre and the States must share the blame for the remissness of the past. Consequently, we must make up for lost time and increase the pace of implementation of the measures that we have agreed upon.
It is with that view that we convened a Conference of Chief Ministers on January 6, 2009 and again on August 17, 2009. I urge you to go back and take a look at the minutes of the two conferences, especially the conclusions that we arrived at and which I had summed up in my closing addresses. Before the second conference, we had requested State Governments to respond to a questionnaire on the progress made in implementing the decisions of the first conference. I regret to report that only 18 States sent us their responses. We have now circulated the minutes of the second conference. I intend to send another questionnaire to the States and request them to let us know the progress made in implementing the conclusions of the two conferences. The questionnaire will, I believe, ultimately land on your desks. I would urge you to send us your responses, as fully and as early as possible, so that we may take stock of what has been achieved and what remains to be done.
Throughout the last nine months, my effort has been to impress upon State Governments, the security forces and the people at large that we can no longer do business as usual. I cannot claim great success in this regard. I still find that old mindsets and old habits persist. For example, State Governments are unwilling – or unable – to revamp their recruitment procedures and make them quick, time bound and transparent. We have introduced a new recruitment procedure in the CPMFs that is based on technology, objective assessment and transparency. I would take this opportunity to urge State Governments to immediately adopt the new procedure. Another example is the failure of the many State Governments to constitute a Police Establishment Board that would decide on transfers and postings. It is a matter of deep regret that many police officers have been reduced to a football, to be kicked here and there, from one post to another, without regard to the damage done to the job as well as the officer. I ask you to search your hearts and answer the question, what is the average length of tenure of a District Superintendent of Police? What is the average length of tenure of a Station House Officer? Why do you remain silent when arbitrary postings and transfers are made by the State Government? Is it not your duty, as the head of the State Police, to raise your voice not only on behalf of your officers but also on behalf of the people that you are duty bound to protect? As one famous Judge said, "When there is a duty to speak, silence is culpable".
I am also concerned about the attitude of some State Governments to providing funds for the police. Let me remind you that 'Police' and 'Public Order' are State subjects. States are right in zealously guarding their turf. The Central Government has no desire to encroach upon the jurisdiction of the State Governments. The Central Government is obliged to intervene only when it is necessary to protect the State against external aggression and internal disturbance and to deploy central forces in aid of the civil power. Given the Constitutional responsibility, State Governments must provide adequate funds for the State Police. In fact, security of the State must be the first charge on the State exchequer. However, I find that many States take the exact opposite route and allot only the residue – after providing for other Plan and Non-Plan Schemes – to the head of "Police". This must change, and I would appeal to the State Governments to change this practice with effect from the Budget for 2010-11.
As far as the Central Government is concerned, you are perhaps aware that there has been a big jump in the Budget Estimates for 2009-10 over the Budget Estimates of 2008-09. BE 2008-09 was Rs.23,700 crore; but BE 2009-10 is Rs.36,841 crore, marking an increase of over Rs.13,000 crore. While the bulk of this increase will indeed go to augmenting and strengthening the CPMFs, more money is also being provided to the States under the heads of Modernisation of Police Force, CCTNS, Strengthening of Fire and Emergency Services, Scheme of ICP, etc.
This Conference must mark the beginning of a process of reinventing the security system in the country. We must learn from our past mistakes. We must also learn from the experience of other countries. I have recounted, at some length, what we are doing. Much of this, as I stated earlier, is commonplace. It is the neglect of tried and tested methods that has led us to a situation where we seemed unequal to the challenges that face the internal security of the country. However, it is not enough to walk with firm steps on the path that is known. We must also lay out a path forward that will draw heavily upon technology and innovation.
There are some big ideas. Some of them have been unveiled. For example, CCTNS and NATGRID. Once these two ambitious projects are fully rolled out and implemented, it will mark a quantum jump in our ability to counter the challenges that we face. There are other ideas too. For example, I wish to enlarge the scale and role of MAC and create a first rate National Counter Terrorism Centre. It is also my desire that once the Police Mission submits its report, we should implement the recommendations in a time-bound manner. There is the need to enact a "Model Police Act". Mega-city policing is a new requirement, and there is much to learn from the experiences of other mega-cities. I wish to sharply upgrade our Forensic Science Laboratories and make them among the best in the world. Prison reform is also on my agenda.
Ladies and Gentlemen, before I close, I leave you with this question: can we accomplish all these within a period of five years? I believe we can. However, I need the full cooperation and support of State Governments and the State Police Forces, especially of the leadership. I urge you to reflect on the ambitious agenda that I have set out. I also urge you to throw up more ideas and suggestions that would, when implemented, give the people of this country a security system that they deserve and that will render India a country that is safe for all its people and for all those who visit India".