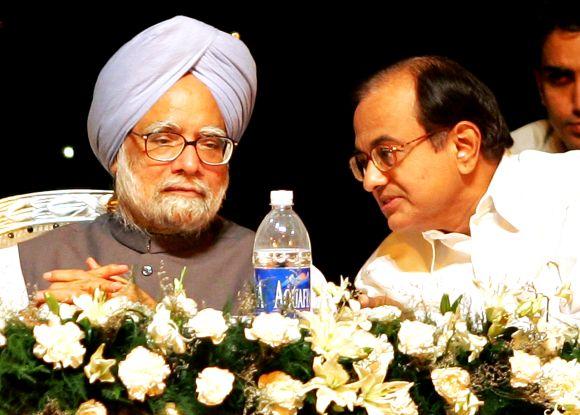 There is a split in the United Progressive Government over Prime Minister Manmohan Singh attending the Commonwealth Heads of Government Meeting on November 15 in Colombo, Sri Lanka. Some Union ministers including Finance Minister P Chidambaram want the PM to skip the session, said sources.
Chidambaram, who is an MP from Tamil Nadu, feels that the government can send a representative to the summit, a television channel reported.
However, playing down reports of a divide in the government, Chidambaram told reporters that but there was still time to take a decision.
"It's the decision that the government will take. There is still time to take that decision," he told reporters in New Delhi when asked whether Dr Singh will travel to Colombo.
"I think MEA spokesperson has already said that the process of decision-making is on and the decision will be taken," Chidambaram added.
To another question, he said, "I am aware that some ministers were opposed to the prime minister's participating in CHOGM. We are aware of that."
He did not identify the ministers but his comments came against the backdrop of Congress leader and Union Shipping Minister G K Vasan urging the Prime Minister on Thursday that India should boycott the CHOGM keeping in mind the sentiments of Tamil Nadu parties.
Vasan said he met the PM to apprise him of the view of the people in Tamil Nadu and the unanimous resolution adopted by the state assembly demanding that India "completely" boycott CHOGM in Sri Lanka next month.
"The prime minister informed that he would act keeping the sentiments of people of Tamil Nadu in mind over Sri Lanka. He had assured to take a good decision," he stated.

Image: Prime Minister Manmohan Singh with Finance Minister P Chidambaram