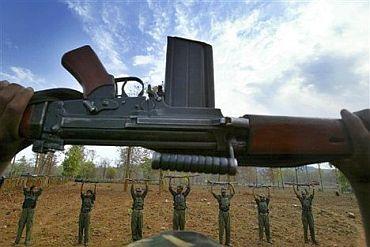 The major Naxal attack on Saturday evening, which targeted a convoy of Congress leaders in Chhattisgarh's Jagdalpur district, killing the party's senior leader Mahendra Karma was an operation in the making for nearly six months, sources tell Vicky Nanjappa
The source says that according to the gathered intelligence, the main target was the Congress, and in particular, Karma.The source adds that there was a major build up in Chhattisgarh, where the Naxal movement was looking for a revival.
"They had gone quiet for a very long time, but looking at the manner in which the attack took place it was clear that it was meticulously planned," says the source. The Naxals were looking to kill Karma in particular,who had spearheaded the Salwa Judum; an anti-Naxal movement which had helped neutralise the Naxals to a large extent.
There had been at least four attempts on Karma's life since 2005. The one on Saturday proved to be fatal.
The Naxals had also been looking to target the Congress. Under the Delhi Congress leadership, the Naxals had been kept under control. The revamping of the anti-Naxal force and the Central Reserve Police Force, which led to the killing of key naxal leader Kishenji had also angered the Naxals.