Ex-cricketer and former Bharatiya Janata Party Member of Parliament Chetan Chauhan's appointment as the chairman of the prestigious National Institute of Fashion Technology, has triggered a row with intense debate raging on social media on the government's 'bizarre selection'.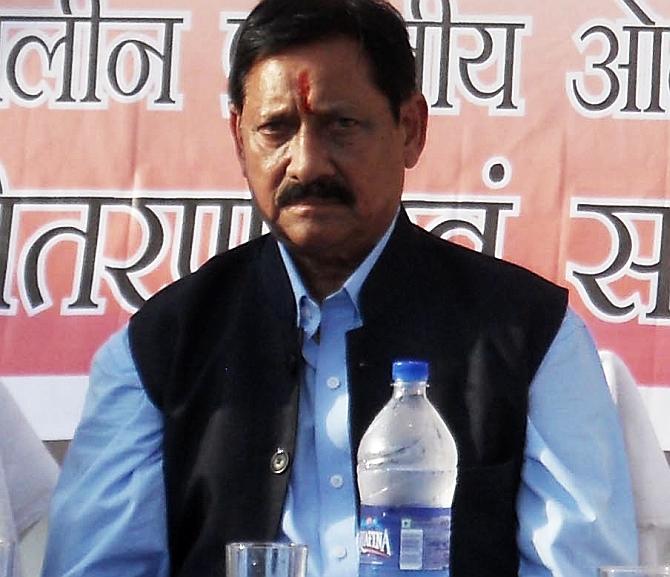 Twitter has been bustling with activity as users lined up to take potshots of the Chauhan's selection.
@VishalDadlani: 'Chetan Chauhan, the ex-cricketer, is now heading the National Institute of Fashion Technology! I'm just amazed!'
@GabbbarSingh: 'After Gajendra chauhan for FTII, Chetan Chauhan for NIFT, abt time we made Annu Kapoor the head of ISRO.'
@Mocktor: Chetan Chauhan has been appointed chief of NIFT. FTII students suddenly realize how lucky they are to have Gajendra Chouhan
@raghven_ace: Wow! 'A cricketer heading fashion institute. Why not make Manish Malhotra, team India's coach'
@ashwinmushran: 'Chetan Chauhan is now heading #NIFT... He is changing his name to Che-Taune Shau-Haune! Got be cool ya know!'
@DrAMSinghvi: 'After Gajendra Chauhan for FTII, Chetan Chauhan for NIFT, Nihlani for censor Board, let's hope ISRO doesn't get chaired by Anupam Kher.'
Meanwhile, Delhi Chief Minister and AAP chief Arvind Kejriwal questioned the appointment of Chauhan, who is also the vice president of Delhi and District Cricket Association, accusing the Narendra Modi government of assembling an army of 'sycophants' in prestigious institutions.
"Modiji has selectively assembled an army of sycophants -- Gajendra Chauhan, Chetan Chauhan, Pahlaj Nihalani, Smriti Irani," Kejriwal tweeted. He also named a media person in the tweet.
When contacted, Chauhan said: "I have been appointed (as the NIFT Chairman) by the Government of India and I will work to the best of my ability."
Chauhan termed as "baseless" Kejriwal's remarks and the allegation by AAP that he was being rewarded for "shielding" Union Finance Minister Arun Jaitley in the alleged irregularities in DDCA.
The AAP mocked the appointment, wondering whether author Chetan Bhagat would be made the next RBI Governor, actor Anupam Kher the ISRO chief and former Maharashta Minister Eknath Khadse the NIA chief.
"Chauhan's appointment is similar to the appointments to institutions like the FTII and CBFC. This is absurd. He (Chauhan) does not know 'F' about fashion and he is the same person who defended Jaitley. And his appointment has the blessings of Amit Shah and Modi," AAP spokesperson Raghav Chadha told reporters.
Chauhan is already juggling a number of profiles -- as DDCA vice-president, senior BCCI official, running a cricket academy in Delhi's Saket Sports Complex and owning a newsprint business.
As for his fashion sense, he told the Indian Express: "My fashion sense is not being flamboyant but well-dressed. I am not dashing fashion-oriented because I have to go with what suits my age. But I like to dress up smartly and well."
However, the 68-year-old stated that he would "have time for all my roles".
"Whenever an urgent matter is required to be addressed, I will be there (NIFT). I will be going there once in week. I will have an office there, but I think I will be spending more time at DDCA. I will have to devote some time to my company (Coral Newsprint), too," he said.
"I will spend 60 per cent of the time in DDCA, 30 per cent at NIFT and 30 per cent in my business," he said.
Set up in 1986, the premier fashion institute, which has centres across the country, comes under the Union Ministry of Textiles.
As per the NIFT Act 2006, the chairperson of the institute's Board of Governors shall be an eminent academician, scientist or technologist or professional, who is to be nominated by the Visitor -- in this case the President of India.