Chennai city and suburbs on Friday started picking up crumbs of life with flood waters receding in several areas but lakhs of people continued to suffer from lack of supply of essentials including water, power, milk and food items.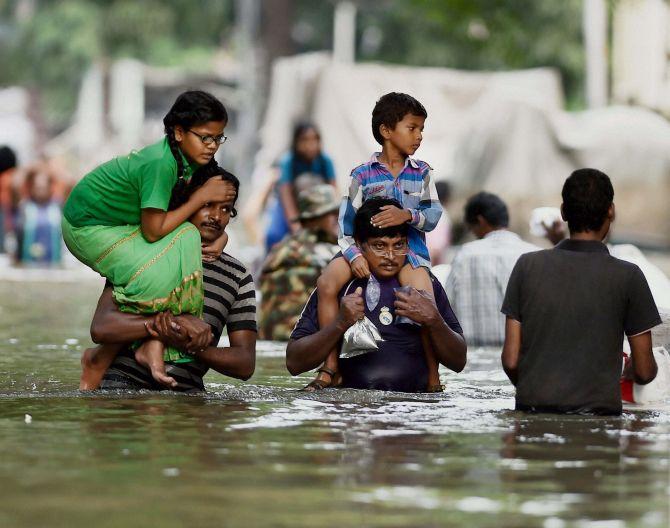 Residents carry their children on their shoulders as they wade through a flooded street in Chennai.

Photograph: PTI
Tragedy stuck a noted private hospital when 18 patients were said to have lost their lives when a sudden black out on Wednesday caused snapping of oxygen supply in the ICU.
However, Tamil Nadu Health Secretary Radhakrishnan had a word of caution saying all the deaths could be due to ventilator failure or lack of oxygen supply as deaths have occurred over a period of three days. The cause of deaths was being probed.
Residents along with a dog evacuate a locality as they wade through a flooded street in Chennai.

Photograph: Anindito Mukherjee/Reuters
Anger spilled on to the streets when senior ministers Natham Viswanathan, Sellur Raju and Gokul Indira visited R K Nagar, Chief Minister Jayalalithaa's constituency, where people gheraoed and heckled them forcing them to make a hasty retreat.
Similar scenes were witnessed in several areas where ventilated their anger at officials complaining lack of any help from authorities in their hour of distress.
Army personnel rescuing woman from a flooded locality in rain-hit Chennai on Thursday

. Photograph: PTI
Intermittent rains in the city in areas like Kodambakkam, T Nagar, Adyar and Kotturpuram and suburban Tambaram on Friday threatened to revive the ghost of flooding again but the weatherman has forecast only light rains for Chennai in the next 24 hours. Heavy to very heavy rains have been forecast for south coastal and interior districts and Puducherry.
Arterial Mount Road and several other important roads were opened for traffic on Friday after three days of disruption bringing a slight sense of normalcy as water levels in Adyar and Cooum rivers and other channels came down following reduced discharge of water from Chembarambakkam, Puzhal and Poondi rivers dotting the city's outskirts.
Mobile phone services, which had taken a severe beating following the heavy downpour on Tuesday, were partially restored even as other services such as ATMs continued to remain shut.
After a day-long dry spell on Thursday, some areas in and around the city showers in the night but Friday morning saw some bright skies with people out on the streets.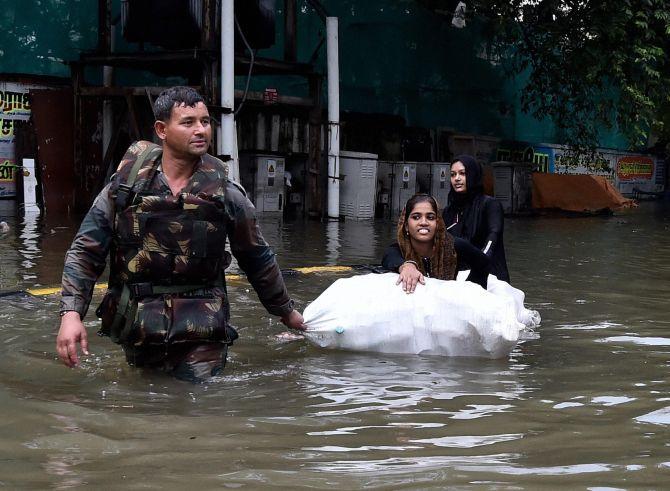 Army personnel rescuing people from a flooded locality in rain-hit Chennai on Thursday

. Photograph: PTI
Though water was receding in many parts of the city, the misery of citizens showed little let up as power remained suspended in many areas as a precautionary measure, officials said. Safe drinking water continued to remain a luxury for many.
Milk supplies were erratic and many citizens complained that vegetables were still being sold at high rates. While supply of state-run Aavin-milk packets were totally hit, a packet of one litre milk sold by private suppliers was priced at Rs 90, whereas 1 kg tomato was available at Rs 80/90.
Transport services were also showing signs of picking up.
Limited commercial flight operations have started on Friday morning from the Rajali naval air station in Arakkonam near Chennai.
Train services on the suburban Chennai Arakonnam stretch were partially restored. Southern Railway officials said they were yet to take a call on restoration of services on the other busy Tambaram-Chennai beach route which covers both business and residential areas.
The Chennai Metro line continued to witness enhanced patronage in the wake of suspension of bus and rail transport.
Army personnel rescuing people from a flooded locality in Chennai on Thursday after heavy rainfall

. Photograph: PTI
Personnel of the army, navy and air force were deployed in the worst-affected areas rescuing people and reaching relief to the victims of nature's unprecedented fury in the city and the suburbs.
The National Disaster Response Force on Friday intensified its relief and rescue operations in Chennai and its adjoining areas as it added 20 more teams for the job and rescued over 10,000 people till now.
Director General of the force, O P Singh, will also travel to the state to review the operations and effectively monitor these activities.
The DG said that his teams are expected to rescue and reach out to more number of people today as the water has receded in some places and power has been restored.
"We have rescued more than 10,000 people till now. Twenty more teams from various locations have been mobilised to Tamil Nadu and the total strength of the NDRF by tonight would be 50. We expect to have better results today as things have improved and rains have stopped over the last night," he said.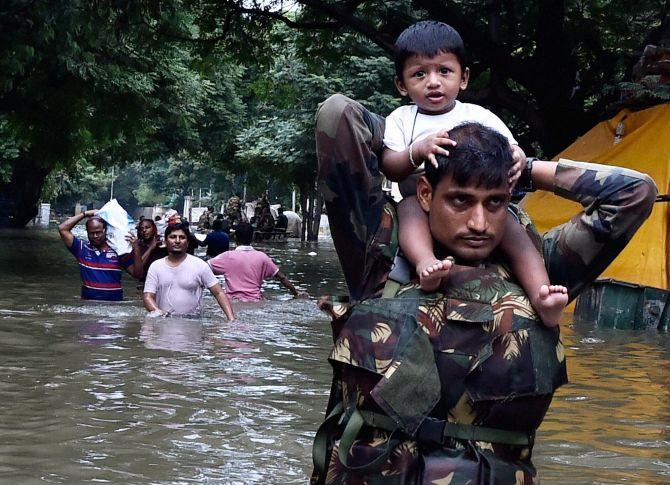 Army personnel carry children on their shoulders as they wade through flood waters in rain-hit Chennai on Thursday

. Photograph: PTI
An official NDRF spokesperson said that by 1 pm a total of 10,589 people were moved to safer places by the teams.
"The teams also distributed 1,400 food packets and 2,300 water packets in the areas of Manali, Kuttapuram and Global health city," the spokesperson added.
Tamil Nadu Chief Minister J Jayalalithaa and Prime Minister Narendra Modi had on Thursday conducted separate aerial surveys of the areas battered by the unprecedented rains that have killed 269 people till now.
After their separate aerial surveys, Jayalalithaa had on Thursday met the PM and urged for an immediate relief of Rs 5,000 crore, to which he responded by announcing Rs 1000 crore more for relief work in Tamil Nadu.
This will be in addition to the Rs 940 crore already announced by the Centre.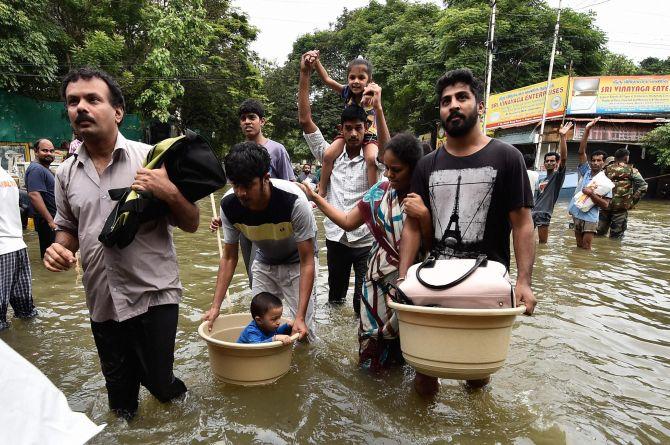 People wade through waterlogged road following heavy rains in Chennai on Wednesday

. Photograph: PTI
Supply of fuel in the city has taken a hit due to "logistic problems" faced by oil companies even as availability of essential commodities like milk, water and vegetables remain affected across Tamil Nadu on Friday.
Since most of the places across Chennai and its suburbs have been cut off due to heavy rain, oil tankers were unable to transport fuel, according to Indian Oil Corporation officials.
Absence of tanker drivers has compounded the problem.
"There are stocks available for supply of fuel but tanker drivers have not reported for work as their families were affected by the floods. It is the logistics problem we are facing now," an IOCL spokesperson said.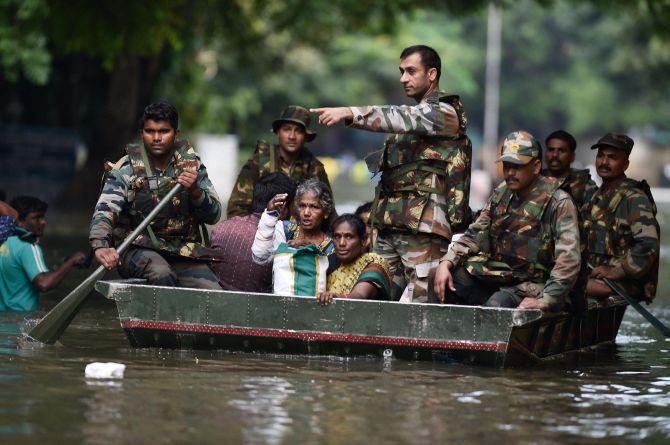 Army personnel rescuing people from a flooded locality in Chennai on Thursday after heavy rainfall

. Photograph: PTI
Motorists were seen standing in large queues for several hours at some fuel outlets where there was supply.
The fuel supply may be restored soon as water level was receding in several areas, the official said.
People continue to be troubled by scarce supply of essentials like milk, electricity cut, choking of mobile phones, internet network and transport.
With milk supply by state-run 'Aavin' yet to be restored fully, availability of milk continued to be scare for the third day on Friday and the price for a litre was anywhere between Rs 70 and 90 depending on the brand and locality.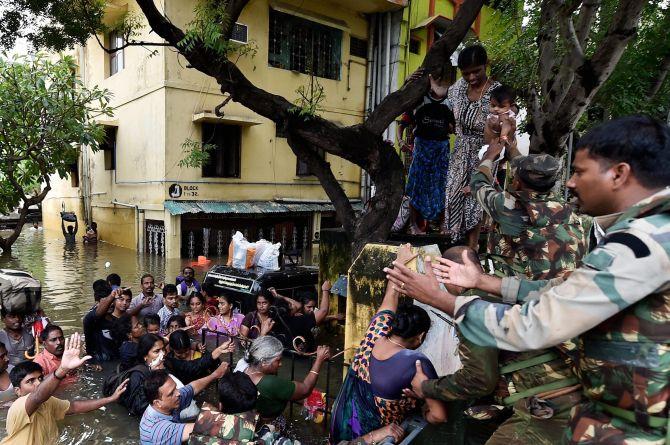 Army personnel rescuing people from a flooded locality in Chennai on Thursday after heavy rainfall.

Photograph: PTI
Supply of vegetables was also hit with local outlets having little or no stock and prices continued to rise as fresh arrivals at the Koyambedu market were hampered. Also,
the popular idli-dosa batter stores in the city selling ready-to-make batter were shut, inconveniencing residents.
Power supply was not restored in most parts of the city and suburbs. As a result, there was no water availability.
People, especially in high-rises and apartment complexes, continued to have a tough times as water pumps could not be operated. As people swarmed to fuel outlets, motorists were told petrol could be dispensed only to a maximum of Rs 100 (for motorbikes) and diesel Rs 500.
Mobile phones and internet services remained choked for the third day.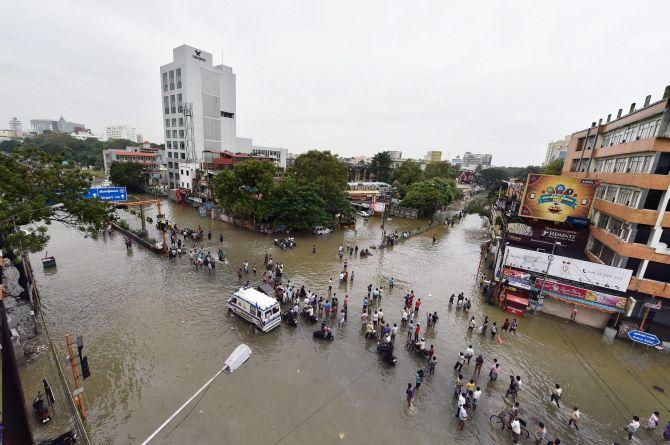 People wade through waterlogged road following heavy rains at Porur in Chennai on Wednesday. Photograph: PTI
State-run metropolitan transportation corporation buses were operated only in select roads with services to other localities yet to resume. Also, the "popular" shared autos and vans were off the roads.
Southern local trains between beach Tambaram-Chengelpet section were shut for the third day on Friday. However, minimal trains were operated on the northern Arakkonam central route.
Flood water has begin to recede along the settlements of Adyar river and in other areas, leaving mounds of garbage on the roads. However, flood water continued to harry residents in several areas like Mudichur and Urappakkam.
With sky remaining overcast, intermittent showers continue to be experienced in city and suburbs.
"The low pressure area over the bay continues to persist," Director, Area Cyclone Warning Centre, S R Ramanan said.
"It will rain in many places in Tamil Nadu and Puducherry in next 24 hours," he added.