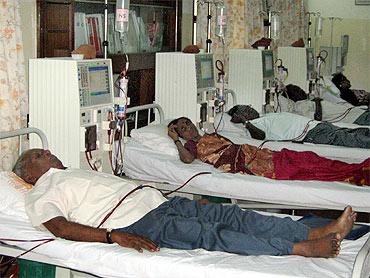 Dialysis is a scary word to most of us. It signifies that both the kidneys have failed and our blood needs to be cleaned by an external agent. It conjures up images of financial difficulties and we have often heard people say, "It's a rich man's disease, a poor man would die as the costs are prohibitive."


Chennai-based Tanker Foundation tries to alleviate the misery of patients suffering with kidney problems by giving them dialysis at a subsidized cost.
What is more important is that they don't turn away patients who are HIV+. This makes them unique from most, if not all, medical centers who conduct dialysis.
HIV+ patients are charged Rs 800 per sitting. "Each dialysis costs the center Rs 1600, the filter and tubes cost Rs 1000," said Tanker Foundation manager Padma Gopalakrishnan.

She went onto explain that the normal patients get a 50 per cent subsidy. HIV+ patients are charged Rs 400 more because for normal patients the same filters and tubes are washed, sterilized and re used a few times.
"With HIV+ patients we cannot re-use. We dispose the filters and tubes after each use," she added.

The HIV+ patients have a special machine dedicated for them.

This center has 12 machines, and they have two other units in Chennai. They operate two shifts a day. 12 patients come here every morning and 12 in the afternoon. Each sitting takes four hours.

Padma informed rediff.com that philanthropists and organisations over the years had donated all the machines.

The center caters to 69 normal patients and three HIV+ patients. The patients need dialysis twice a week. This is the minimum need.

There are 10 people working here for the Tanker Foundation. They are nurses, and technicians who take care of the machines.

As the patients are stable, a doctor is not needed.

When rediff.com visited the centre, patients looked relaxed. Tanker Foundation had obviously earned their trust.

The Tanker Foundation is an acronym for Tamil Nadu Kidney Research. It was founded on June 30, 1993. The founder is Dr Georgi Abraham, Madras Medical Mission and the managing trustee is Latha Kumaraswami.

This branch is at 766, Poonamallee High road, Kilpauk, Chennai.
Image: Dialysis being conducted at Tanker Foundation in Chennai | Photograph: A Ganesh Nadar