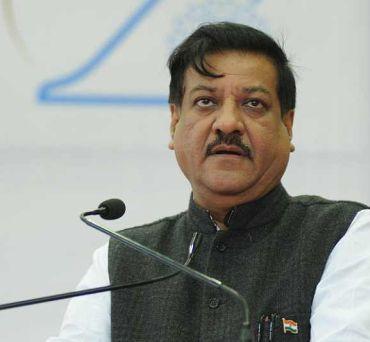 An embattled former Maharashtra Chief Minister Prithviraj Chavan, who is contesting his maiden assembly election from Karad in what appears to be a fight for political survival, is facing a formidable party rebel as an adversary in this traditional Congress bastion in Satara district.
Chavan's rival, 79-year-old Vilasrao Undalkar, has won this seat as Congress candidate for seven consecutive terms, holding his sway over voters for 35 years.
He raised a banner of revolt against the party and filed nomination as an independent when Chavan, who too hails from Karad, decided to enter the fray. He has been an MP and central minister before taking over reins of the state in 2011.
Interestingly, the two have contrasting personalities. Undalkar, fondly called "Kaka" in the region, is a far cry from the high-profile Chavan who is considered a meticulous technocrat and an academician who has studied in the US.
A simple dhoti-kurta clad man, Kaka does not even carry a pen or a mobile but knows people and party workers by their first names, say his supporters who also cite a perceived lack of connectivity of Chavan as his handicap.
However, Chavan, Congress sources point out, has carefully cultivated this constituency during his tenure as chief minister, pumping in funds to the tune of Rs. 1,800 crore to undertake developmental work which includes an airport for Karad, a four-lane road network and creation of a police housing colony.
"The clean image of Chavan and the thrust on development of Karad -- represented in the Lok Sabha by his father Anandrao, mother Premalatai and himself for four decades -- are the factors that put former chief minister ahead of his seasoned rival in the race," they claim.
Just around the time of filing of nominations, BJP managed to bring to its fold Atul Bhosale of the Congress who too comes from a family which has a political heritage in the region along with a network of cooperatives and educational institutions.
Although a lightweight in comparison to Chavan and Undaklar, the young BJP candidate is expected to cut into votes targeted by both of them.
The Nationalist Congress Party, which has projected Chavan as its arch rival with the breaking of alliance with Congress, is leaving no stone unturned to queer the pitch for the former chief minister as it announced its support to Undalkar, withdrawing its official nominee Rajendra Yadav, deputy chairman of Karad civic council, at the last minute.
A seemingly intriguing statement was made by NCP chief Sharad Pawar after Yadav withdrew his nomination against Chavan, who is on the 'hit list' of the estranged ally after breaking of the 15 year old alliance. Pawar said NCP did not want to put up its candidate against the chief minister (Chavan) and that is why Yadav was asked to opt out. He indicated that the party would extend its support to Undalkar at local level in a move aimed at avoiding division of anti-Chavan votes.
In a damage control exercise, Chavan, however, has roped in Yadav who felt humiliated at being asked by NCP high command to withdraw his papers in order to brighten the chances of Undalkar.
Yadav, who had crossed over from Congress to NCP just before filing of nominations to become its candidate, has now declared his support to Chavan after withdrawing his nomination.
A close associate of Satara NCP MP Udayan Raje Bhosale, who has a royal lineage, Yadav said, "I filed my nomination as NCP candidate and was asked by party high command to withdraw it within two days. This treatment given to me by NCP is extremely humiliating and reflects improper functioning within that party."
Yadav said, "I have announced my support to Chavan with whom we have old family relations. Undalkar emerged victorious in earlier elections because we worked for him. Now the situation favours the former chief minister".
Congress sources claim that Chavan has always enjoyed a good equation with Bhosale in the region dominated by Maratha caste. Though an NCP MP, Bhosale has always been at loggerheads with the NCP top leadership.
Undalkar supporters appeared upbeat during a visit to the constituency where the poll campaign mainly includes 'padayatras', corner meetings and door-to-door canvassing.
A sarpanch in the region campaigning for Undalkar said, "Kaka successfully solved the water problem in the region making it tanker free by channelising rivers Warna and Krishna under the 'Wakurde' scheme in the region.
"This has led to an increase in irrigated land resulting in a large number of farm workers coming back to Karad from Mumbai and other places where they were forced to pick up odd jobs."
"Kaka actually did not want to contest the election this time but we have insisted that he should in order to solve common man's problems," he added.
Criticising Chavan, who is referred to as Baba, he said, "Baba, besides being CM, held the post of central minister in Delhi for nine years but showed no interest in development of Karad. His new found interest has come about only after announcement of the elections."
"For Kaka, we don't need any star campaigners. He is sure to romp home for the record eighth time," supporters say.
While Chavan is touring the state to seek votes for other Congress candidates, his erstwhile ministerial colleagues Satej Patil and Patangrao Kadam have been in charge of his campaign in South Karad. He is expected to go full steam in the last phase of the October 15 polling.
The presence of Shiv Sena's Ajinkya Patil and Vikas Pawar of Maharashtra Navnirman Sena in the election arena is considered symbolic. In the constituency with about 2.75 lakh voters, the main issues include creation of jobs, better infrastructure and water management.
Chavan supporters say that despite his long innings as an MLA, Undalkar does not have much to show on developmental front and his modest winning margin of 14,000 votes in the 2009 assembly elections is indicative of a dwindling popularity of the old stalwart. The voters want to start a new chapter in development of Karad by electing a forward looking Chavan, they add.
When prodded on his view, a rickshaw driver said, "Chavan had so remained distant to people of Karad with his base in Delhi which of late shifted to the state after becoming chief minister."
"He is a Congress high command loyalist while Undalkar has been a Congress loyalist who won this seat for the party first in 1980 and retained it for 35 years. It's unfortunate that he has to fight this election as a rebel independent against Chavan whose family too has an umbilical cord with Karad."
The rickshaw ride in the town is quite bumpy with roads ridden with potholes. For Chavan who appears to have an edge over his rival, the ride to victory may not be as smooth as he would love it to be.