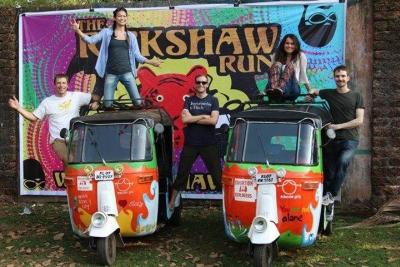 T
he Education Explorers, a non-governmental organisation, has planned a rickshaw run from Cochin in Kerala to Jaisalmer in Rajasthan to collect funds to educate girls.
Starting January 1, 2015, five volunteers will attempt to ride in two rickshaws across this 3,000 km journey for the fund
raiser. The participants are Phil Angst, Thomas Boarder, Paul Niel, Clare Wong and Sofia Ramirez.
The explorers will be interacting with Rediff readers during the entire journey.
You could ask them questions, advise them, interact with them on Rediff Zara Bol
To enter the chat room click
here