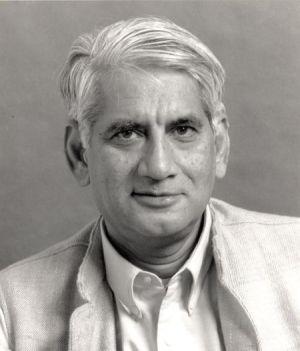 When Charles Correa was hailed as India's greatest architect in 2013, he said, 'Greatest is so…so definite. Most innovative might have been better'
It was always a surprise to visit Charles Correa in his apartment in south Mumbai. In addition to the way its conventional spaces were turned on their head -- with its cool flooring, uncluttered division of areas and low seating -- there were certain features that exemplified his overall design for living. Light filtered in from traditional chiks, bamboo blinds, because he loathed curtains; cane moorahs, the poor Indian's portable seat-cum-stool, were everywhere; and one section of the living room was dominated by his wife Monika's large handloom, like some beguiling art installation, at which she worked on her tapestries.

Correa, who died on Tuesday at the age of 84, was among India's visionary post-modern architects and urban planners, celebrated as much for his vast output of public and private buildings throughout the country and overseas as for his passionate, outspoken views on the future of Indian cities, corrupt land mafias and municipalities, and the "air-conditioned nightmare" of cookie-cutter high rises blighting the urban landscape.

Although appointed to some of government's most important architectural projects, as chief architect of the nascent Navi Mumbai in the 1970s, and later, as head of the Delhi Urban Arts Commission in 2005 (a position he resigned three years later), his disillusionment was often expressed in strong, unequivocal terms. Reacting sharply to a new state government plan to transform Mumbai into a world-class city like Shanghai by 2020, Correa responded: "That's not a vision, that's a hallucination."
Correa believed powerfully that cities were the nucleus for the country's economic regeneration; and that unless land for well-designed, low-cost housing with basic amenities like schools and parks was not made available for low-income groups, the squalor of slums, flood of urban migrants and, in Mumbai's case, millions of pavement dwellers could not be wished away. "The three things a city has to give," he said, "is hope, economics and skills."
Tall and ruggedly handsome, with his black-framed pebble glasses and shock of white hair, he usually dressed in loose-fitting white khadi shirts and kohlapuris. He was what many architects are not: A charismatic figure and eloquent speaker. A conversation with Correa was never less than scintillating; it covered a wide terrain, from the necessity of creating wider pavements and open-to-sky spaces to where to locate the best fish curry in Mumbai; from the pleasure of reading Amitav Ghosh to the palpable excitement he felt, when returning as a student from America in 1955, he saw Le Corbusier's Jaoul House under construction in Paris: "I was absolutely knocked out. It was a whole new way to build… then I saw Chandigarh and his buildings in Ahmedabad. They seemed the only way to build."

Although an avowed 20th century modernist, influenced by the design tenets of Frank Lloyd Wright and Buckminster Fuller, with whom he became acquainted as an architecture student in America, Correa borrowed as freely from the spatial dynamics of Indian villages as the grand imperial design of Mughal buildings. He remained a devoted fan of Fatehpuri Sikri. Speaking of the 16th century royal capital that was abandoned all too soon due to water shortages, he once said: "The reason why Emperor Akbar was so great was not because of his military battles -- who cares about that? -- but because at the centre of that vortex of power he exercised judgement and imagination."

Several of his public buildings, such as the museum spaces of Bharat Bhavan in Bhopal (1975-1981) and Jawahar Kala Kendra, (1986-1992) are clad in the Mughals' favoured red sandstone, with interiors that give on to wide or stepped open air terraces. In the walled inner courtyard of the British Council's building (1987-1992) in Delhi, its frontage embellished by Howard Hodgkin's swirling mural in black and white marble, Correa's take on the Mughal char bagh, complete with reflecting pool and sculpture-adorned water body, is most visible. "All great architecture is great sculpture," he said, "but it is sculpture used by human beings."

Two of his seminal buildings today, however, endure because of their stylistic simplicity, their ability to capture the spirit of Indians whose life's work is rooted in humility. Unarguably the first is Gandhi's Sabarmati Ashram in Ahmedabad (1958-63) that he embarked on at the age of 28, shortly after returning from America as a trained architect; the second is Delhi's Crafts Museum, as alive and vibrant a tribute to the genius of Indian craftsmen as when it opened in 1990. Neither is unduly imitative nor reductive but both complexes, in their use of inexpensive materials, shaded verandas and interlinked courtyards, carry the imprimatur of Correa's brilliance.

His relatively small practice in Mumbai, originally set up with Shirish Patel and Pravina Mehta, undertook many major institutional buildings including the Vidhan Sabha in Bhopal (1980-1996), MIT's Neuroscience Centre in Boston (2000-2005) and the Champalimaud Centre for the Unknown in Lisbon (2007-2010). Still, Correa's abiding belief in, and commitment to, modest, small-scale architecture never left him. His social concerns and wide spectrum of friendships channelled his creative energy into a range of low- and middle-income housing projects but also intimate churches, hotels and homes in Goa, Bengaluru and New Delhi for private clients.
In 1983, however, when his 28-storey residential tower, Kanchenjunga, in the heart of south Mumbai, was completed, it stirred a hornet's nest. Roundly chastised for creating a concrete monstrosity of Lego-coloured cuboids, he was forced to stand his ground and withstood the critical storm.

Richly rewarded in a long life with a host of laurels including the Padma Vibhushan, the Aga Khan Award for Architecture and international prizes, when the Royal Institute of British Architects honoured him with a retrospective in 2013, hailing him as "India's greatest architect", Correa was unfazed. "Perhaps 'the most inventive' or 'the most innovative' might have been better. Greatest is so… so definite. It leaves no room," he said in an interview.

An original, questing mind who leaves behind a rich and varied legacy of built heritage, Correa's philosophy was remarkably simple. "Unless you believe in what you do… it becomes boring."