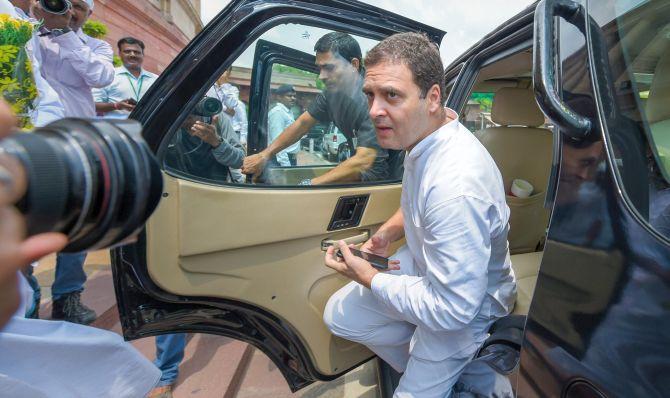 Congress president Rahul Gandhi on Thursday attacked the Bharatiya Janata Party government over proposed changes to the Right to Information Act, saying they will render the law useless.
The proposed amendments, circulated among Members of Parliament, seek to do away with the parity given to information commissions with the Election Commission in terms of salary, allowances and conditions of service, RTI activists have said.
"Every Indian deserves to know the truth and the BJP wants to hide the truth. The BJP believes the truth must be hidden from the people and they must not question people in power. The changes proposed to the RTI will make it a useless Act," Gandhi said on Twitter.
He added that the changes being suggested "must be opposed by every Indian".
Gandhi tagged a letter by the National Campaign for People's Right to Information, which has challenged the amendments on grounds that they undermine the independence of information commissions.
The government on Wednesday said it is considering a proposal to amend the Right to Information Act, 2005, to frame rules on salaries and services of the chief information commissioner and information commissioners.
A notice of intention was given to introduce 'The Right to Information (Amendment) Bill, 2018' in the Rajya Sabha for consideration and passage during the current session of Parliament, Minister of State for Personnel Jitendra Singh said in a written reply to Lok Sabha.
Leaders of various political parties on Wednesday said they have committed to fight any "attempt" by the Centre to "dilute" the act and oppose any amendments to it.