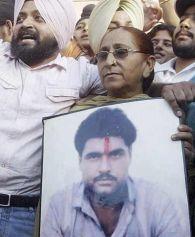 Pakistani doctors today said that there has been no improvement in the condition of Sarabjit Singh, currently in coma in hospital and that his chances of survival are "slim".
More than 45 hours after Sarabjit was admitted to JinnahHospital with a severe head injury, there has been "no sign" of recovery or improvement in his condition, the doctors were quoted as saying by sources.
The doctors believe Sarabjit's chances of survival are "slim" as he sustained injuries over a widespread area of his head that led to unconsciousness.
The doctors found a haematoma (a localised collection of blood outside vessels) larger than 3 cm, indicating that he was in need of surgical intervention, the sources told PTI.
Another source quoted doctors as saying that Sarabjit's condition was measured as 5 on the Glasgow Coma Scale (GCS), which indicates the level of damage to a person's central nervous system.
The lowest possible GCS score is 3 while the highest is 15. The GCS assesses level of consciousness after a profound head injury and Sarabjit's reading indicated deep unconsciousness, making his treatment a major neurosurgical challenge for the medical board set up by authorities, the source said.
After the medical board examined Sarabjit again on Sunday, its members agreed it would not be possible to perform surgery on him at this stage.
The medical board's members are Anjum Habib Vohra, neurosurgeon and principal of Post-Graduate Medical Institute, Jinnah Hospital neuro-department head Zafar Chaudhry and Naeem Kasuri, neuro-physician of King Edward Medical University.
A separate intensive care unit has been set up in JinnahHospital for Sarabjit because of security concerns.
People have been barred from approaching the unit and a large police contingent has been deployed there to guard him.
Sarabjit sustained several injuries, including a skull fracture, when six prisoners attacked him in Kot Lakhpat Jail on Friday afternoon.
He was hit on the head with bricks and his neck and torso cut with sharp weapons.
Sarabjit was convicted for alleged involvement in a string of bomb attacks in Punjab province that killed 14 people in 1990.