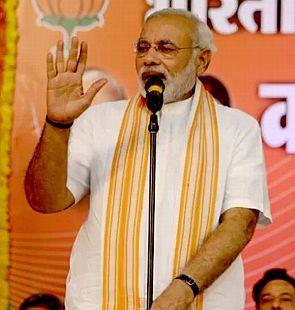 Handed over the charge of BJP's campaign in the next Lok Sabha polls, Narendra Modi on Sunday virtually sounded the election bugle as he targeted the UPA government over various fronts and asked party cadres to work for "Congress-free Bharat Nirman".
In his first comments on the new role which in effect makes him the party's face in the elections, Modi said BJP will work out a strategy to oust Congress from power and resume the work left by former Prime Minister Atal Bihari Vajpayee.
He attacked the UPA government, saying it has taken the country for granted and was "shameless" despite several corruption allegations, policy paralysis and failures on various fronts like internal security, economic situation and foreign policy.
"Let us work to make space in the hearts of people," said Modi in his address to BJP workers in Panaji shortly after being name as the Campaign Committee Chairman.
He asked the cadres to dream for "Congress-free Bharat Nirman" and work in this direction by ousting the UPA government in the next elections.
Describing the UPA as a "sinking ship", the Gujarat Chief Minister said BJP's agenda is not the change of government but development of the nation and giving it its "due prestige".

He said the people of the country have lost trust in the UPA government and cited safety of women and problems faced by farmers to buttress his point.

On internal security, Modi said the UPA government was talking about dealing with naxalism with firm hand but some people said to be sympathisers of the Left wing ideology had been appointed to Planning Commission and Sonia Gandhi-led National Advisory Council.
He also took at dig at NAC, saying it had been set up above Planning Commission which is headed by the Prime Minister. "If you had to set up NAC, then why need the Prime Minister?"
Modi also accused the UPA government of not being serious about the future of youth and warned that if their energy is not properly channelised, there could be unrest.
The Gujarat Chief Minister addressed the workers in the presence of BJP president Rajnath Singh, Arun Jaitley and Goa Chief Minister Manohar Parrikar.
Sushma Swaraj was supposed to speak but conspicuous by her absence.