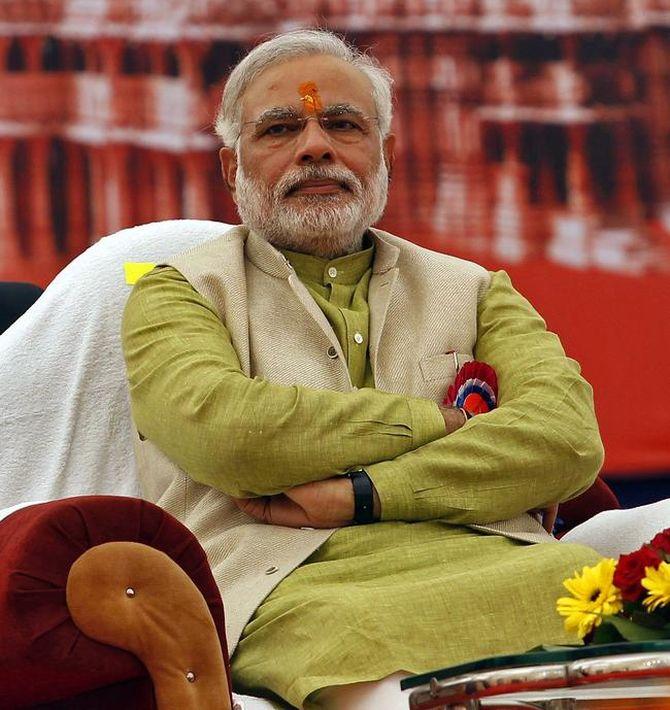 The government has planned a series of events in the next three weeks to highlight the rural and agrarian focus of its policies and programmes, particularly those for farmers and Dalits.
These events would include celebrating the centenary of Mahatma Gandhi's Champaran Satyagraha in Bihar in a big way. It was Gandhi's first mass agitation in India, where he had led a protest of peasants against forcible cultivation of indigo.
On Tuesday, Prime Minister Narendra Modi launched a Stand-up India scheme for Scheduled Castes, Scheduled Tribes and women on the occasion of the birth anniversary of Congress leader Jagjivan Ram, a Dalit. In his speech, the PM lauded Ram's contribution as Union defence minister in the 1971 Bangladesh war and as agriculture minister.
As part of the scheme to encourage entrepreneurship, each of the 1,25,000 branches of nationalised banks will offer loans from Rs 10 lakh to Rs 1 crore to one woman and one person each from the SC and ST communities. Modi said each year at least 2,50,000 SCs, STs and women entrepreneurs will be so funded.
The PM unveiled the scheme along with all 17 of his Bharatiya Janata Party's Dalit MPs elected from Uttar Pradesh. In 2014, the BJP had won all of the 17 reserved seats of UP's 80 Lok Sabha constituencies. The state is scheduled for assembly polls in early 2017 and Dalits are a significant part of the state's electorate.
On Monday, the BJP had expelled its UP women's wing chief, Madhu Mishra, for making a statement insulting to Dalits. The BJP is still smarting under the Opposition's campaign of it being anti-Dalit after the suicide of HyderabadUniversity research scholar Rohith Vemula in mid-January. It has planned a determined outreach to show itself as a party that works for the welfare of Dalits, tribals and peasants.
On Wednesday, the BJP marked its 36th foundation day, with all its workers asked to hoist the party flag atop their homes, and asked to help spread the word on its belief regarding 'Antyodaya', working for the welfare of the poorest.
This is to be followed by events to mark the birth anniversary of Dalit icon B R Ambedkar on April 14. From April 14 to 17, party workers have been asked to visit Dalit hamlets and homes in the area of their polling booths and honour Dalit students.
Also, several ministries will come together on taking the 'Gram Uday se Bharat Uday' to villages from April 18 to 21. This is supposed to highlight the farmer-friendly elements of the Union Budget to each of the country's panchayats. The government will also mark Panchayati Raj Day on April 24 with a series of programmes, culminating with the PM's speech from Jamshedpur on the day.
The government has asked 600 Krishi Vikas Kendras and Agricultural Technology Management Agency centres to spread information about government policies to each gram panchayat, including the budgetary proposal of allocating Rs 80 lakh for each. Dalit panchayat leaders are scheduled to meet for a day's discussion in Hyderabad.
"The BJP believes that each village in India should promote social harmony among people, and have ek talab/kuan, ek mandir, ek shamshan (one pond, one temple and one cremation ground) for all people," BJP national secretary Shrikant Sharma said.
The plan to mark the centenary of Gandhi's Champaran satyagraha would focus on encouraging cultivation of indigenous variety of seeds and breeding of indigenous livestock. Agriculture Minister Radha Mohan Singh is expected to be the pointsperson for the programme.