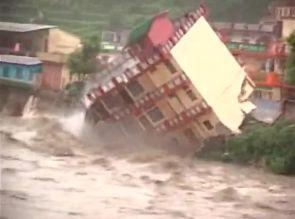 Even as nature's fury is causing multitude of disasters in Uttarakhand and Himachal Pradesh, the Centre is yet to appoint head of the specialised 10,000- personnel strong NDRF, the mainstay for disaster mitigation and rescue operations in the country.
The post of National Disaster Response Force Director General is being held as an additional assignment by the chief of ITBP for more than a fortnight now, forcing the second-in-command officers to tackle the challenge that has erupted recently.
The last incumbent, senior IPS officer P M Nair, retired on May 31 and since then the Union Home Ministry has tasked Indo-Tibetan Border Police DG Ajay Chadha to hold the post in an "additional" capacity.
The Inspector General (Operations) of the NDRF is now attending meetings at the MHA and other forums in the absence of a regular chief.
Chadha is also instructing NDRF officers apart from monitoring ITBP operations in Uttarakhand and Himachal Pradesh.
"The NDRF, however, is performing its best given the present challenge of undertaking relief operations in Himachal Pradesh and Uttarakhand, but keeping it without a full-time head for such a long time speaks about the importance that is given to such a crucial organisation," a senior official said.
The Ministry of Home Affairs is still to find a suitable IPS officer to head this organisation which is in the thick of action to provide succour to stranded people in the upper reaches and rain-hit areas of the two states.
The NDRF DG is also the chief of Civil Defence personnel in the country.
The NDRF is a fully deputationist organisation and its ten battalions (slightly over 10,000 personnel) are drawn from various paramilitary forces and the men and officers undergo special training for disaster management and medical care skills before joining the ranks.
NDRF battalions are located in Guwahati (Assam), Kolkata (West Bengal), Vellore (Tamil Nadu), Pune (Maharashtra), Gandhinagar (Gujarat), Bathinda (Punjab), Ghaziabad (Uttar Pradesh), Patna (Bihar), Vijaywada (Andhra Pradesh) and Cuttack (Odisha).
Two new NDRF battalions have recently been sanctioned by the Centre to be based in Haridwar and Mysore.
The battalions will be culled from the border guarding Sashastra Seema Bal.