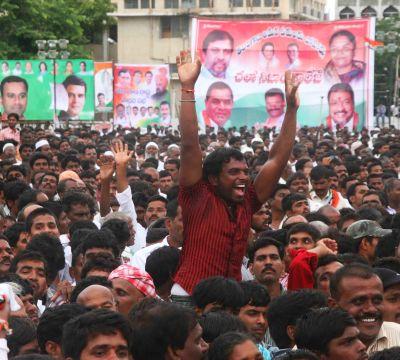 The enthusiasm of the people of Telangana is most likely to crash with sources in the Union ministry of home affairs saying that there is no development on the separate state issue and a road map has also still not been drawn out.
The public meeting on Telangana, which was held Sunday in Hyderabad, saw Congress leaders of the region raising the hopes of the people saying that a decision (a positive one) had already been taken at the Centre. However, MHA sources say that there has been no discussion as yet on the issue and no paper work has come their way.
Andhra Pradesh Chief Minister Kiran Kumar Reddy and other leaders from Telangana have been frequenting New Delhi and discussing the issue, but reliable sources point out that the Congress high command wants a status quo on the issue for now.
The leaders from Telangana have been telling the people that the high command has agreed to their demands and is all set to declare a separate state.
The anti-Telangana leaders, however, claim the opposite. There was a great deal of confusion in the high command as there were reports that while Conress chief Sonia Gandhi was in favour of a separate state, vice president Rahul Gandhi was not.
Madhu Yakshi Goud, a prominent leader from Telangana, however told the media that he had managed to convince Rahul Gandhi on the issue.
For the leaders of Telangana, these are desperate times. They are being questioned by the voters of the region. However, there are some Congress loyalists from Telangana who have been told to keep the rumour mill abuzz and buy time till the next general elections.
This is to keep the people quiet and also avoid more Congress exodus into the Telangana Rashtriya Samiti.
While these issues are being debated in Andhra Pradesh, Digvijaya Singh, the new Congress in-charge of Andhra Pradesh, would visit the state. Singh would hold talks with leaders of all the regions and report to the high command.
Considered to be a Rahul loyalist, he is likely to the toe the line of his leader.
Image: A Telangana supporter cheers during a Congress rally in Hyderabad on Sunday
Photograph: SnapsIndia