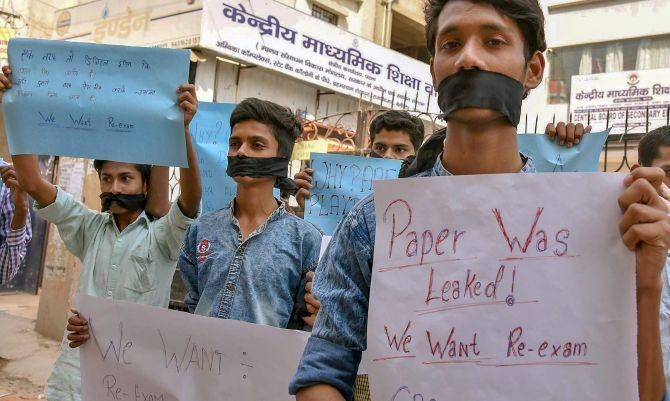 The Class 12 economics paper of Central Board of Secondary Education was leaked on March 23 -- three days before the exam date -- in Himachal Pradesh's Una town and it was shared on at least 40 WhatsApp groups, Delhi Police said on Saturday after the arrest of three people in this connection.
The three -- Rakesh Kumar, Amit Sharma and Ashok Kumar -- all from DAV Centenary Public School in Una, were arrested by the crime branch after lengthy investigation and questioning, R P Upadhayay, special commissioner (crime) of police, said.
Rakesh Kumar had been teaching at the DAV school as a PGT economics teacher for eight years.
He was the centre superintendent of Jawahar Navodaya Public School in Una, where the CBSE exams were being held.
Amit Sharma and Ashok Kumar worked at the DAV school as clerk and peon respectively.
On March 23, three days before the economics paper exam, Rakesh Kumar collected bundles of computer science paper, the exam for which was due that day, from the strong room of Union Bank in Una.
He also picked up a bundle of economics paper, Upadhayay said.
"While he took computer science paper bundle to Jawahar Navodaya, he handed over the economics paper bundle to his colleagues -- Amit and Ashok," the officer said.
The duo took out a copy of the economics paper and sent it to Rakesh Kumar via WhatsApp messaging application.
Rakesh Kumar then got it hand written by a student whom he tutored.
"The hand-written copy was sent by Rakesh to his relative in Chandigarh, whose son was appearing for Class 12 exam. That way, the hand-written copy got leaked on WhatsApp groups," he said.
Later the three accused deleted the WhatsApp messages and destroyed the hand-written copy to hide digital footprints.
"Investigation so far has revealed that the hand-written copy was available on 40 WhatsApp groups. At least 30-40 students got it but a lot of trail is yet to be covered," said Upadhayay.
"The motive for paper leakage so far has emerged that Rakesh wanted to help his student who was weak in economics. He also helped his relative. No money angle has come up so far, but investigation is on to determine if the accused leaked any other papers," the officer added.
The leak was exposed after an envelop containing four images of the hand-written economics paper was delivered to CBSE Headquarters in Delhi on the evening of the scheduled date of the exam on March 26.
On March 30, CBSE announced it would re-conduct the Class 12 economics exam throughout the country on April 25.
The police has registered two cases in connection with the matter. The first case relating to the leak of economics paper was filed on March 27, while the other pertaining to the leak of mathematics paper was lodged on March 28.