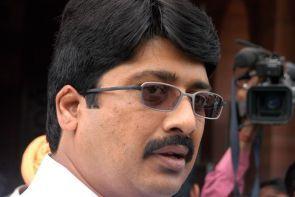 The Central Bureau of Investigation is not likely to press any charge against former Uttar Pradesh minister Raghuraj Pratap Singh alias Raja Bhaiya in its chargesheet in connection with violence in Balipur village of Pratapgarh in which Deputy Superintendent of Police Zia-Ul Haq and village head Nanhe Yadav were allegedly murdered.
CBI sources said agency is likely to file soon its chargesheet in the violence and murders which took place on March 2 evening but it has not found any evidence so far against the political heavyweight from the region who was made accused in the murder of DSP on the basis of FIR filed by his wife.
The sources said they had probed the incidents from all angles but no direct evidence against Raja Bhaiya in the murders or their conspiracy has surfaced.
They said the agency would file a charge sheet soon before the competent court and if it finds any evidence against Raja Bhaiya it would file a supplementary chargesheet.
They said the agency is likely to book Nanhe Yadav's son Babloo Yadav for allegedly killing the police officer.
They said Ajay Pal and Vijay Pal, both sons of Kamta Pal, who was having land dispute with Nanhe Yadav would be booked for his murder.
CBI believes that killing of Nanhe was the handiwork of hired shooters who gunned him down on March 2 when he was standing at a tea stall in Balipur village.
After the murder of Yadav, Haq had rushed to the village to control the situation.
By the time he approached the site, the news of Yadav's murder had spread and a large crowd gathered outside his house which was angry at the alleged apathy of the police and protested the police's alleged failure to stop the murder.