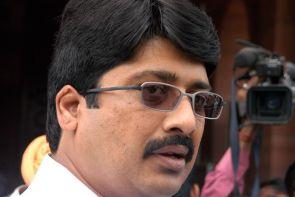 Former Uttar Pradesh Minister Raghuraj Pratap Singh, alias Raja Bhaiya, will be questioned by the Central Bureau of Investigation on Wednesday in connection in the murder of a village head and subsequently a police official.
CBI sources said 44-year old Raja Bhaiya, who is prime accused in the FIR registered by Kunda DSP Zia-ul-Haq's wife Parveen Azar, has been summoned by the agency for questioning in connection with the larger conspiracy related to the murder of Balipur village head Nanhe Yadav.
Last month, CBI had arrested one Bhulle Pal, a security guard with the then State Minister Raja Bhaiya, who allegedly led a mob, enraged by the killing of Yadav, to kill the police officer.
Raja Bhaiya has denied any association with Pal.
CBI has also taken into custody Rajeev Singh and Guddu Singh who are considered close to the minister.
In the FIR filed on the basis of a complaint by Parveen Azad, it has been alleged that "on the directions of Raja Bhaiya, Nagar Panchayat Chairman Gulshan Yadav, minister's representative Hari Om Srivastava, his driver Rohit Singh and supporter Guddu Singh first assaulted my husband with sticks and rods and later shot him dead."
The allegations have been denied by Raja Bhaiya.
CBI has so far arrested 11 persons in connection with the murders of Haq, Nanhe and his brother Suresh who were found dead on March 2 evening at Balipur village.

CBI sources claimed Haq, who was posted as Deputy Superintendent of Police at Kunda, had reached the house of Nanhe Yadav after getting the news of his murder on March 2.

By the time he approached the site, the news of Yadav's murder had spread and a large crowd gathered outside his house which was protested the police's alleged failure to the murder.
The sources said agency has recovered the weapon, allegedly used in the killing Haq.