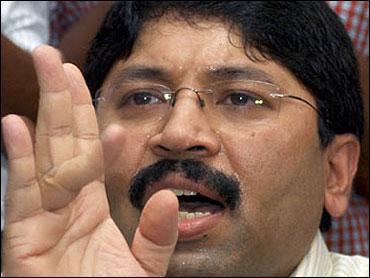 The Central Bureau of Investigation on Wednesday night arrested three people, including V Gowthaman, the then additional private secretary of Dayanidhi Maran, in connection with alleged allotment of more than 300 high-speed telephone lines to the then telecom minister's residence in Chennai which were extended to his brother's TV channel.
Besides Gowthaman, the CBI arrested Chief Technical Officer SKannan and electrician L S Ravi of Sun TV network, the agency said.
The three have been arrested to 'collect some crucial evidence' which may come up during their questioning, the CBI said, adding that they would be produced before a designated court in Chennai on Thursday.
The CBI has named Maran and BSNL officials, including the then Chief General Manager K Bramhanathan and MP Veluswami in the first information report filed in October 2013 following a preliminary enquiry in which the agency claimed to have found enough material to proceed with a regular case against the former minister.
The CBI alleged nearly 323 residential lines were allegedly in the name of the Bharat Sanchar Nigam Limited general manager connecting the Boat House residence of Maran with the office of Sun TV through a dedicated underground cable during his tenure as telecom minister.
The probe had started in 2011, nearly four years after getting complaints that a 'virtual' telephone exchange was allegedly set-up at the then Telecom Minister's house for facilitating data transfer from Sun TV.
The agency had recommended action to the then telecom secretary in 2007 but the department allegedly did not give its nod in the case, sources in CBI said.
The CBI filed a preliminary inquiry in the case in 2011, they said. The sources said these lines were not ordinary telephone lines but costly ISDN, capable of carrying huge data thus facilitating faster transmission of TV news and programmes across the globe.
The CBI had in its report to the Telecom Secretary alleged these lines were for use of large commercial enterprises to meet special needs such as video conferencing or transmission of huge volume of digital data for which heavy fee is charged but Sun TV got it for free.