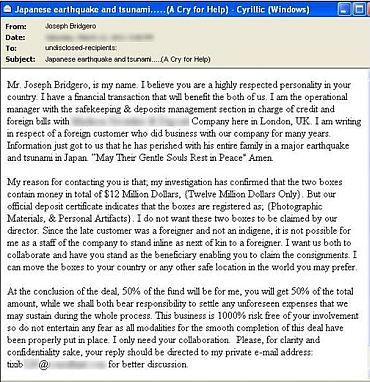 Japan has witnessed its worst tragedy till date. As the world sets out to help the massive quake and subsequent tsunami-ravaged victims and their families, there are already some frauds online who are trying to make the best of the situation.
As the death and injury toll rises with each passing day (with some reports claiming the death toll might cross the 10,000 mark), there are some malicious people who want to exploit such situations, under the guise of charitable institutions and governmental organisations.
Emails marked 'URGENT,' requesting for help by appealing to the humanity in every internet user, or urging consumers around the world to offer donations to those affected, are doing the rounds.
Security software giant Symantec has detected more than 50 domains with the names of either 'Japan tsunami' or 'Japan earthquake' within the first few hours of this unfortunate event.
These domains are either parked, available for sale, or are linked to earthquake sites. Don't be surprised if you see these domains being used in phishing and spam attacks.
Below are a few of the samples:
3-11-2011-[removed].com
3-11[removed].com
earthquake-[removed].com
earthquaketsunami[removed].com
earthquakerelief[removed].com
It has also observed a classic 419 message targeting the Japanese disaster. The message is a bogus 'next of kin' story that purports to settle millions of dollars owing to an earthquake and tsunami victim.
Previously, when such disasters occurred, it was observed a sudden surge in virus attacks in the form of nasty attachments and .zip files embedded in spam sent from such predatory attackers.
Do not open them, especially if you don't know the source. Use caution when opening forwarded messages related to the Japan earthquake and tsunami, and any other tragedy or event that stirs international news coverage, legitimate and otherwise.
Nefarious attackers may be sending malicious Java scripts and other threats that could compromise both your personal data and your computer.
Other methods that the cyber mafia uses during such events include search engine poisoning. With several internet users searching for earthquake-related news and information online, cyber criminals can poison search results for malicious websites to appear at the top of the results.
Users who click on these links assuming that the information will help them make sense of the tragedy, may end up downloading malware instead.
Image: A screen-shot of a fake 'Help Japan tsunami victims' mail