Australia's three-time pro-surfing champion Mick Fanning got the shock of his life when he was attacked by a shark during the World Surf League's JBay Open in South Africa.
Three-time world champion Mick Fanning was able to get away from the beast by punching it in the back. Photograph: World Surf League/Reuters

Fanning was paddling out to ride his first wave when the unidentified species of shark surfaced next to him, knocking the 34-year-old off his board.
Footage released by the World Surf League shows the shark's fin emerge from the water before following Fanning as he paddled out of the shallows.
The three-time world champion, who was competing against fellow Australian Julian Wilson in the final, can be seen being knocked off his board before he attempts to use it as a shield to stop the shark biting him.
WATCH: The amazing moment when surfer is attacked by shark (external link)
A visibly shaken Fanning, who was miraculously uninjured, said, "It came up and got stuck in my leg rope. I instantly just jumped away. It kept coming at my board and I was kicking and screaming. I just saw fins. I punched it in the back."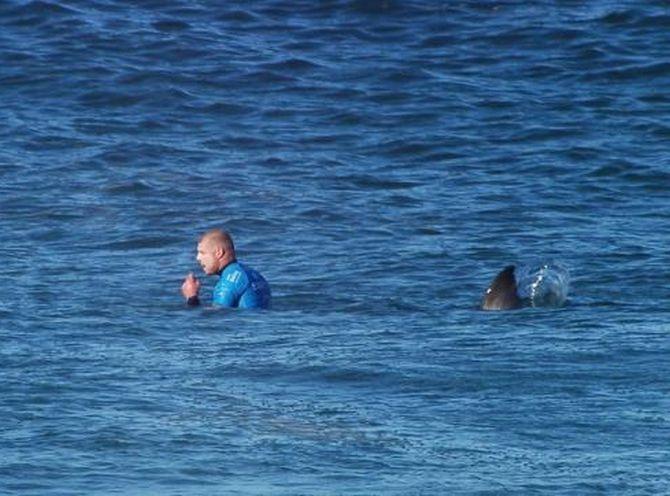 After his close shave, Fanning said he used his board to fend off the predator. Photograph: World Surf League/Reuters
The incident, which was broadcast on live TV, led to the cancellation of the final against compatriot Julian Wilson.
"We are incredibly grateful that no one was seriously injured today," the World Surf League said in a statement.