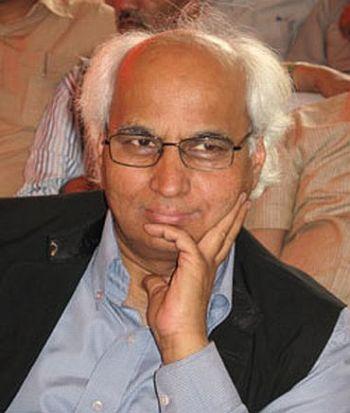 Sudheendra Kulkarni, a former aide of Bharatiya Janata Party leader L K Advani, was on Tuesday arrested in the 2008 cash-for-vote scam and remanded to judicial custody in Tihar Jail after a Delhi court rejected his interim bail plea, the sixth person to be taken into custody in the case.

Special Judge Sangita Dhingra Sehgal turned down the interim bail application of Kulkarni, 54, saying it was devoid of merits and fixed hearing on his plea for regular bail on October one. Till then he will be in judicial custody in Tihar Jail.

With the court threatening to issue arrest warrant against him after he had failed to appear on last two hearings on account of his visit to the US, Kulkarni on Tuesday presented himself before the judge and sought relief claiming he was "a whistle blower" who intended to expose corruption.

"There is no reason to deny interim bail to a person whose regular bail is pending (in the court) and who was not arrested during investigation," the counsel for Kulkarni said.

During the arguments, the judge pulled up the prosecution for arresting only some of the accused named in the charge sheet.

"They (prosecution) have no justification for arresting 2-3 accused and leaving others. They cannot pick and choose," the judge said.

Delhi Police, in its charge sheet, has alleged that Kulkarni turned towards Samajwadi Party leaders in a bid to influence the 2008 trust vote of UPA-I government after he failed to make inroads in the Congress camp.

To achieve his design, Kulkarni allegedly "masterminded" the conspiracy to bribe MPs and "directed" co-accused Suhail Hindustani to divert his efforts towards Samajwadi Party leaders who met the BJP MPs ahead of the voting on confidence motion in Lok Sabha, it said.

After the Supreme Court slammed it for a shoddy probe into cash-for-vote scam, Delhi Police had on July 17 made its first arrest in the case, taking into custody Sanjeev Saxena, believed to be an aide of Rajya Sabha MP Amar Singh.

Three days later, Suhail Hindustani was arrested and on September 6, Amar Singh and former BJP MPs Faggan Singh Kulaste and Mahabir Singh Bhagora, who appeared before the court responding to its summons, were taken into custody after the court rejected their interim bail pleas.

Before appearing in court, Kulkarni told media persons, "The charge against me is false and politically motivated. My role in the entire matter was that of a whistle blower. Along with my associates, 3 BJP MPs and Suhail Hindustani, I attempted to expose the purchase of MPs for securing victory in the confidence vote that the then government was seeking in Lok Sabha in July 2008."

He claimed that he had "nothing to hide" and that he was not running away from anyone.

"I am ready to go to jail if exposing corruption is a crime," he said.

The incident came to light on July 22, 2008 when then BJP MPs Ashok Argal, Kulaste and Bhagora displayed wads of notes to the tune of Rs one crore in Lok Sabha alleging that they had been offered bribe to save the government after the Left parties withdrew support on the nuclear deal.

Opposing Kulkarni's interim bail plea, public prosecutor Rajiv Mohan said, "They (defence counsel) have not shown any purpose for grant of interim bail."

On Kulkarni's alleged role, Mohan claimed the whole conspiracy started when co-accused Sohail Hindustani contacted Kulkarni for the first time.

Defence counsel Mahipal Singh said Kulkarni had neither given nor taken any money from anyone in this whole issue.

"If my purpose was to pocket the money, I would not have let it be shown in Parliament. In fact it was not a deal of only Rs one crore but it was a deal of Rs nine crore. If I were to take illegal gratification, I could have got Rs 8 crore more," Kulkarni's counsel said.

He said had Kulkarni intended to take the money, he would not have informed his party regarding it.

Chargesheeted for his alleged role in the 2008 cash-for-vote scam, Kulkarni made his maiden appearance in the court after failing to do so earlier on September 6 and September 19 on the ground that he was abroad.