Why does Punjab's CM find it hard to fulfill poll promises?
Sahil Makkar finds out.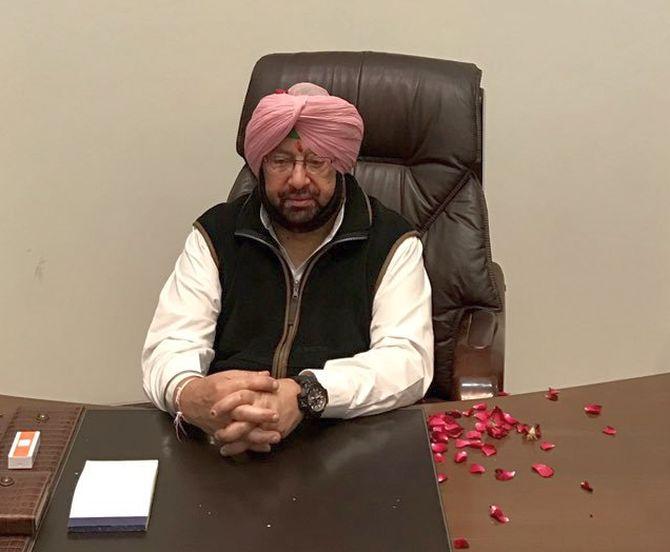 Captain Amarinder Singh has barely anything to showcase since he took over as Punjab chief minister on March 16.
He is finding it hard to fulfil the raft of poll promises his party had made before the state assembly elections.
This is mainly on account of burgeoning state debt, revenue deficit and promises made that are impossible to keep.
For instance, Singh's key promise of ending drug menace in the first four weeks has fallen flat.
Though the special task force, which was set up by Singh soon after forming the government, has arrested around 1,400 people in the state, it is yet to catch the big fish.
Worse, allegations have been labelled against certain members of the task force for allegedly running drug cartels in cahoots with the traffickers.
The chief minister's office, however, claims that their concerted campaign against the drug mafia has yielded positive results.
'A major achievement of the government is its success in breaking the backbone of the drug dealers and peddlers, who have been on the run since the government announced its anti-drugs crackdown within days of taking over the state's reins,' Singh's office said in an email statement.
'The spiralling prices of drugs are a clear indication of the scarcity of drugs triggered by the spate of arrests and seizures secured by the STF, with the support of other agencies,' the statement added.
Though it would be unfair to judge Singh's performance in the first eight weeks, his perception as chief minister has taken a beating when compared to his counterpart Yogi Adityanath, who was elected as Uttar Pradesh chief minister around the same time.
Adityanath's cabinet waived crop loans of up to Rs 1 lakh for about 21.5 million small and marginal farmers soon after coming to power.
The total waiver by the UP government amounted to Rs 36,359 crore (Rs 363.59 billion).
Singh had made a similar promise of waiving farm loans of small and marginal farmers in Punjab, but his government is learnt to be waiting for financial assistance from the Narendra Modi-led Bharatiya Janata Party government at the Centre.
'We will have to do it in phases. We have five years to go. We never said, ayundian saar aseen sab kucch khatam kar deyange (debts will be waived at the outset),' Singh told a newspaper in a recent interview.
Punjab's total farm debt is believed to be around Rs 80,000 crore (Rs 800 billion), which includes Rs 12,500 crore (Rs 125 billion) from the cooperative banks under the state government.
The problem with this government is that it does not have any fiscal cushion to write off the loans.
The previous Shiromani Akali Dal-BJP government had left them a debt of Rs 1.24 lakh crore (Rs 1.24 trillion).
The budget estimates of 2016-2017 showed the Punjab government had a revenue deficit of Rs 7,983 crore (Rs 79.83 billion), which consistently exceeded Rs 6,500 crore (Rs 65 billion) since 2014-2015.
'The biggest challenge faced by the government is the critical health of the state's economy, which appears to be in a bigger mess than was envisaged,' the CM's office said.
'Acute funds scarcity has emerged as a major obstacle in the path of the government's efforts to put the state back on the path of growth and development. This is leading to some delays in implementing some of the poll promises in their entirety,' it said.
Stuck in such a tight fiscal spot, it is difficult to write off farm loans.
On its part the state government has prohibited the sale of properties of defaulting farmers and agricultural labourers.
'Waiver of the loans is also on track, with the expert group set up to work out the modalities expected to submit its report soon,' Singh said in his newspaper interview.
The state government is trying to meet its expenses by reducing expenditure and raising money through auctions.
It recorded a gain of Rs 1,000 crore (Rs 10 billion) from the auction of sand mines -- the previous SAD-BJP government had raised only Rs 45 crore (Rs 450 million) from a similar auction.
The Punjab chief minister is trying to invite fresh investments by holding meetings with industrialists.
The state government believes that revival of industry would help fulfil its promise of one job for every household.
Singh said his government was 'introducing 100,000 Uber taxis this year. That will adjust 200,000 people.'
'We are also going to give permits for mini buses and regular buses that the youth will collectively operate. We don't have any government jobs to offer. We need industry to boost the job market,' he said.
On the promise of ending the VIP culture, Singh has taken a significant step by asking his ministers and legislators to remove beacons from their vehicles and surrender their personal security.
Singh, however, is yet to initiate action against former ministers and officials whom he had charged with corruption and nepotism earlier.