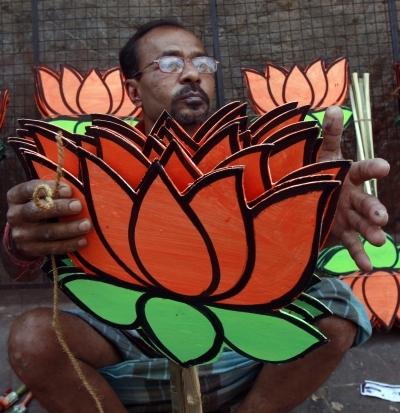 In a major jolt to the Bharatiya Janata Party in Uttar Pradesh, none of the candidates supported by it could ensure victory in the Cantonment Board polls in Varanasi and Lucknow, and managed to win just one seat in Agra.
In Varanasi, the Lok Sabha seat of Prime Minister Narendra Modi, all the seven seats were bagged by independents. The BJP had for the first time fielded or supported
candidates in Cantonment Board polls.
In Lucknow, the home turf of Union Home Minister Rajnath Singh, the BJP lost on all eight seats to Independents. Asked to comment on the party's poor performance in these elections, BJP state chief Laxmikant Bajpai said most of the candidates lost as they were not given official party symbol.
In Varanasi, the seven seats were won by Sangita, Shailendra Singh, Rajkumar Das, Masood Hussain, Chandra Keshav, Shahnawaz Ali and Shailja Srivastava – all independents.
In Lucknow, Jagdish Prasad, Pramod Sharma, Rupa Devi, Swati Yadav, Amit Kumar Shukla, Anjum Aara, Sanjay Kumar Vaish and Reena Singhania -- all Independents -- bagged the eight seats.
In Agra too, the performance of the BJP was not good as it won just one ward, with Independents romping home at seven seats. The BJP had contested these seats on party symbol.
Polling was held on Sunday and results of Varanasi and Lucknow were declared on Monday. Commenting on the BJP's rout, UP Cabinet Minister and Samajwadi Party leader Ambika Chowdhury said the results had proved BJP's tall claims hollow.
"The BJP had made tall claims but could not come up to the expectations of the people. In UP assembly bye-elections soon after Narendra Modi swept to power at the Centre, the BJP lost nine out of 11 seats. Now it will taste more defeat in the days to come in all elections at least in Uttar Pradesh," he said, adding, "People have understood the reality."