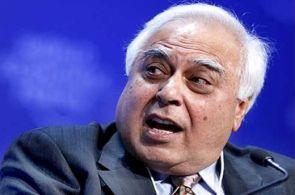 India cannot break off its dialogue process with Pakistan on the Sarabjit issue alone as it would serve no purpose, Union Minister Kapil Sibal said Friday.
"We are upset. But that does not mean that on that ground alone, we should break off our dialogue with Pakistan," Sibal told reporters here in response to question on the Sarabjit issue.
He said Pakistan should have protected Sarabjit but failed to do so.
"You (Pakistan) should have protected Sarabjit because he was in your jail, like we protected Kasab," the minister said, adding that India did not allow anything to happen to Kasab and protected him till the Supreme Court decided his case and subsequent action (capital punishment) was carried out in accordance with the apex court's judgement.
While the government as well as the people of India are unhappy with what happened to Sarabjit and it may affect to some extent India's future dialogue process with Pakistan, New Delhi cannot break it off with Islamabad on this ground alone, he added.
Sibal's reaction came in the wake of BJP demanding that India scales down its diplomatic relations with Islamabad in the aftermath of Sarabjit's death.
Image: Reuters