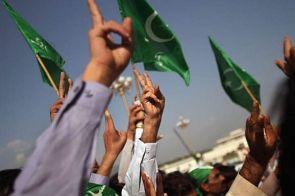 An independent candidate was on Friday shot dead, while a Pakistan People's Party nominee went missing in the port city of Karachi.
Three people, including MQM-(Haqiqi)-backed independent candidate Shakeel Ahmed, were killed in the shootout between two rival groups, police said.
Shakeel had earlier filed nomination papers as a MQM (Haqiqi) candidate, but his papers were rejected by the Election Commission. He filed an appeal and was allowed to contest as an independent candidate.
"He was supported by the MQM and today's killing shows we are not being allowed to campaign," a spokesman for the MQM (Haqiqi) said.
The MQM (Haqiqi) is a breakaway group of the dominant Mutthaida-e-Qaumi Movement, and represents the Urdu speaking population in Pakistan's biggest city.
Police said shops and markets were been shut down as the situation turned tense in one of the city's most populous areas, Landhi, where the incident occurred.
The Election Commission has suspended elections in two constituencies after the incident.
In another incident, a candidate of the Pakistan People's Party, contesting for a provincial assembly seat, went missing, leading to protests by party workers.