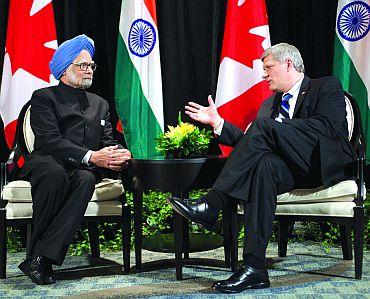 Canadian Prime Minister Stephen Harper will be arriving in India for his second visit on November 3.


His visit to India has been timed to coincide with the World Economic Forum on India in Gurgaon, Haryana on November 6.

"Canada enjoys a strong working and personal relationship with India, but we must further strengthen the links between our two countries," Harper said, adding, "India is a growing economy with enormous potential, and expanding our trade and investment links with India will create jobs, growth and long-term prosperity here in Canada."

Harper will be accompanied by International Trade Minister Ed Fast, Minister of Natural Resources Joe Oliver, Minister of Agriculture and Agri-Food Gerry Ritz, Minister of State for Sports Bal Gosal and Minister of State for Democratic Reform Tim Uppal.

Foreign Affairs Minister John Baird and his Parliamentary Secretary Deepak Obhrai will not be part of the team.

"We have just come back from India. All the work that had to be done has been done," Obhrai said.

"This visit is obviously geared to enhance the relationship between our countries. While we were in New Delhi, we reinforced the fact that India and Canada should have a forward-looking relationship."

Obhrai said the two countries were looking at enhanced business and trade relationships.

"In the realm of foreign affairs, I believe political situations in Iran and Afghanistan, issues before the United Nations will form part of the discussions between the two leaders," he said.

Although the prime minister's office has not revealed details of the issues to be discussed during the visit, there are indications that the Bilateral Foreign Investment Promotion and Protection Agreement could be signed.

Other issues likely to figure in discussions are export of Canadian oil and gas to India and cooperation in food and agriculture, including preservation of fruits and vegetables. There are still some hiccups in finalizing the draft of the 'administrative arrangements' to formalize the civilian nuclear agreement, enabling export of uranium and other nuclear materials from Canada to India.
India insists it would be answerable only to the International Atomic Energy Agency in regard to use and inventory of the Canadian nuclear material. But Canada wants India to be accountable to it as well because of the country's commitment to non-proliferations of the nuclear material.


Interestingly, for the first time, the Canadian government has agreed to provide local hospitality in India to Canadian business people -- including hotels, food, local transportation, etc. Harper and his team will also visit Agra, Chandigarh, and Bengaluru.