The Indian Navy is constrained by its lowest budgetary allocation since 2011-2012, reveals Ajai Shukla.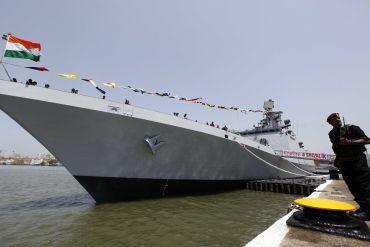 About two-and-a-half years have lapsed since the navy signed a contract for new warships -- a Rs 45,381 crore (Rs 453.81 billion) deal in 2015 with Mazagon Dock Ltd, Mumbai, and Garden Reach Shipbuilders & Engineers, Kolkata for seven stealth frigates under Project 17A.
With numerous other warship purchases stuck in the defence ministry's famously clogged procurement pipeline, the navy surrendered Rs 15,041 crore (Rs 150.41 billion) during the past five years from its budgetary allocation for new warships.
In four of the past five financial years, the navy surrendered thousands of crores of unspent money. It returned Rs 2,543 crore (Rs 25.43 billion) in 2012-2013; Rs 3,621 crore (Rs 36.12 billion) in 2013-2014; Rs 5,285 crore (Rs 52.85 billion) in 2015-2016; and Rs 4,371 crore (Rs 43.71 billion) last year.
Only in 2014-2015 did the navy spend its allocation, overspending by Rs 779 crore (Rs 7.79 billion)
Now, with contracts almost finalised for 23 new warships, the navy finds itself constrained by the lowest budgetary allocation since 2011-12.
This year it has only Rs 11,023 crore (Rs 110.23 billion) for fleet expansion, compared to Rs 13,617 crore (Rs 136.17 billion) in 2012-2013; Rs 11,772 crore (Rs 117.72 billion) in 2013-2014; Rs 12,576 crore (Rs 125.76 billion in 2014-2015), Rs 16,050 crore (Rs 160.50 billion) in 2015-2016, and Rs 12,467 crore (Rs 124.67 billion) last year.
This reduction in the fleet budget is compounded by inflation which usually runs at 5 to 10 per cent annually for defence weaponry, including warships.
Now, with Rs 45,000 crore (Rs 450 billion) worth of warship contracts near signing, admirals tell me that there is concern the government might cite a budget crunch.
If the navy were to sign these without delay, it would need to allocate Rs 4,500 crore (Rs 45 billion), which is the traditional 10 per cent signing amount.
However, most of this year's Rs 11,023 crore (Rs 110.23 billion) budget is pre-committed towards installments on earlier contracts and ongoing projects, including the construction of Project 75 Scorpene submarines, Project 15B destroyers, Project 17A frigates, Project 28 corvettes, the indigenous aircraft carrier, INS Vikrant, and others.
The admirals say the contracts for 23 new warships depends upon whether the government agrees to allocate an additional Rs 4,500 crore towards the 'Navy Fleet' accounting head in the defence budget.
"The government thought it fit to take back Rs 4,371 crore last year and Rs 5,285 crore the year before. Hopefully, it will find a way to enhance this year's allocation by a similar amount", says a senior admiral, speaking anonymously.
The 23 contracts nearing finalisation are for the building in Indian shipyards of five hydrographic survey vessels, two diving support vessels, and 16 anti-submarine warfare shallow water craft.
These will involve a pay out of about Rs 20,000 crore (Rs 200 billion) over five to seven years, with an advance of Rs 2,000 crore (Rs 20 billion) to be paid this year.
"We have concluded cost negotiations with the shipyards that will build these vessels. By the year-end, the first two contracts should be signed. The one for ASWC needs to be cleared by the Cabinet Committee on Security, so we are targeting March 31," said an MoD official closely involved in these procurements.
Besides these, the navy hopes to conclude another big contract this year for building four 'landing platform docks'. The estimated Rs 25,000 crore (Rs 250 billion) contract is currently at the bid-opening stage.
After concluding these Rs 45,000 crore worth of contracts this year, the navy's target for 2018 is a Rs 25,000 to Rs 30,000 crore (Rs 250 billion to Rs 300 billion) contract for four Grigorivich-class frigates (Russian nomenclature: Project 1135.6).
Two of these stealth frigates will be built in Russia while the Goa Shipyard will build the other two.
The MCPP and LTIPP both talk about increasing the navy;s warship strength from the current 140 to 198 warships by 2027.
This would involve increasing the navy's warship numbers by five to six every year; in addition to replacing two to three warships that retire after completing their service lives.
Towards this, the navy has about 75 vessels of various types in the procurement pipeline, to be completed by 2027.