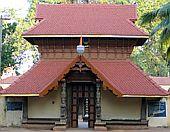 The call of the Nair Service Society to appoint priests from its community in temples managed by the organisation has triggered a debate whether the worshippers would accept non-Brahmin priests.
The Yoga Kshema Sabha, the community outfit of the Kerala Brahmins, has taken exception to NSS general secretary G Sukumaran Nair's statement that exploitation from higher castes still existed in the name of spirituality.
Yoga Kshema Sabha president Akkeeramon Kalidasan Bhattathiripad in a statement asked the NSS chief to come out with proof that Brahmins had exploited other sections.
Nair, while speaking at the first day of the 136th Jayanthi celebrations of NSS founder Mannath Padmanabhan on Tuesday at Perunna near Kottayam, had said exploitation still existed in the name of spirituality and Nair priests would have to be appointed as priests in temples owned by the NSS.
The challenges faced by the NSS when it started 'Thantra Vidya Peethom' to train priests had been overcome and the first batch of candidates had come out successfully, he had said at the function.

Raising objections to the accusation against Brahmins, Bhattathiripad said he wanted to know whether the 'exploitation theory' was the personal opinion of the NSS chief or that of the community as a whole.

"The Yoga Kshema Sabha does not have any objection to members of Nair community performing pujas and rituals in temples owned by them. But blaming the Brahmins by the NSS leader was unwarranted," he said.

Meanwhile, pro-RSS Hindu Aikya Vedi supported the call for trained persons from non-Brahmin communities being made temple priests.
The Aikyavedi state general secretary Kummanam Rajesekharan told PTI that priesthood should not be determined by caste. This had been approved by the Kerala high court and Supreme Court in various judgements.

"Sound knowledge and proper training to conduct the rituals should be the criteria to become a priest and not the caste. The NSS calling for Nair priests should also welcome other sections into their temples," he said.