The Union Cabinet met in New Delhi on Monday evening after the first sitting of the special session of Parliament, amid speculation that it may clear some important legislative proposals.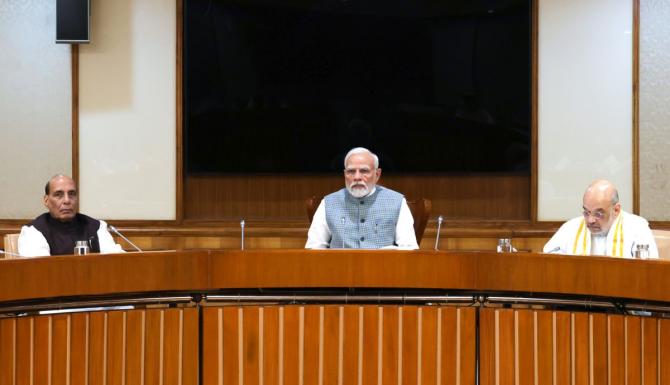 There was no word on what transpired in the meeting which lasted for over 90 minutes.
The meeting, chaired by Prime Minister Narendra Modi, was attended by Union ministers including Rajnath Singh, Amit Shah, Piyush Goyal, Pralhad Joshi, S Jaishankar, Nirmala Sitharaman, Dharmendra Pradhan, Nitin Gadkari and Arjun Ram Meghwal.
Ever since it was announced that the Parliament session would be held from September 18-22, there has been speculation on various bills, including the women's reservation bill, that may come up during the session.
Earlier in the day while addressing the media ahead of the session, PM Modi had said that this Parliament session may be of short duration but is big on occasion, and is of 'historic decisions'.
In his remarks in Lok Sabha on the discussion on 75 years of Parliament, he asserted that the contribution of women parliamentarians has been on the rise over the years.
Cutting across political lines, leaders have demanded the introduction of the women's reservation bill, which guarantees a 33 per cent quota in Lok Sabha and state assemblies.