The bill rules out any provision for an anticipatory bail for a person accused of atrocities against SC/STs, notwithstanding any court order.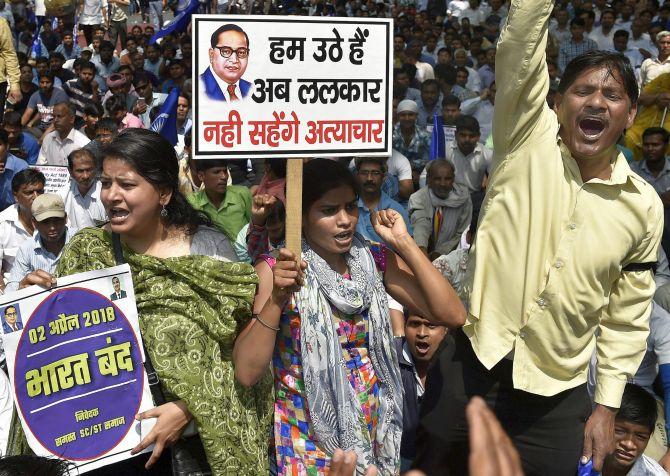 The Union Cabinet on Wednesday approved a bill to restore original provisions of a law on prevention of atrocities against people of scheduled castes and tribes, a move seen as a reach-out by the Bharatiya Janata Party-led National Democratic Alliance government to Dalits days ahead of their proposed August 9 nationwide protest with this key demand.
The bill rules out any provision for an anticipatory bail for a person accused of atrocities against SC/STs, notwithstanding any court order, while it also provides that no preliminary enquiry will be required for registering a criminal case and an arrest under this law would not be subject to any approval.
Dalit groups have been asking the government to overturn a Supreme Court ruling of March 20, saying it had "diluted" and rendered "toothless" the law against atrocities faced by the weakest sections of the society by putting additional safeguards against arrest of the accused.
Their nationwide protest on April 20 had turned violent in several states, leaving at least 12 dead, while call has been given for another 'Bharat Bandh' on August 9 with several opposition parties also offering their support this time.
With several Dalit leaders from within the BJP and some of the NDA allies also voicing their support for necessary steps to 'overturn' the apex court ruling, the government now hopes to table the bill in Parliament during the ongoing session itself for passage.
Terming the bill "historic", union minister and BJP ally Ram Vilas Paswan told reporters that a Cabinet meeting chaired by Prime Minister Narendra Modi approved the Scheduled Tribes (Prevention of Atrocities) Amendment Bill and it is likely to be tabled in Parliament during the ongoing session.
The bill says a preliminary enquiry will not be required for registration of a criminal case (FIR) under this law and any arrest if necessary will not be subject to any approval.
It also rules our any provision for anticipatory bail for the accused "notwithstanding any judgement or order of any court," he said.
The Supreme Court in an order on March 20 had introduced safeguards like prior enquiry and provision for anticipatory bail for accused, sparking massive protests from Dalit groups who said it made the law "toothless".
The BJP hopes that the government's decision will defuse the anger among Dalits and tribals, while boosting its efforts to win over a major section of them as it gears up for assembly polls in Madhya Pradesh, Rajsthan, Chhattisgarh later this year and then the Lok Sabha election next year, leaders said.
Paswan had emerged as a key voice within the government seeking a new law to overturn the court's order, leaving many to wonder if his Lok Janshakti Party was drifting away from the BJP over Dalit issues ahead of Lok Sabha elections.
The LJP president, however, on Wednesday asserted that "all issues are closed" now and heaped praise on Modi for his several pro-Dalit measures and said his party's planned protests on August 9, when Dalit groups have called for 'Bharat Bandh', will now turn into celebrations.
It was not immediately clear whether other Dalit groups would go ahead with the nationwide protest planned for August 9.
Modi said in the Cabinet meeting that if needed the law will be made more stringent, Paswan said.
The bill is a "tight slap" on faces of opposition parties which had been projecting the government as "anti-Dalit", the senior union minister said.
The issue has exposed all parties as ruling party leaders like him made protests and invited "suspicion" over their intentions but opposition leaders like Congress president Rahul Gandhi did not make their stand clear on it, Paswan said.
Using the occasion to take potshots at rivals, Paswan said the "self-proclaimed" Dalit leaders like BSP supremo Mayawati should seek apology as she, as the then Uttar Pradesh chief minister in 2007, had relaxed the law's provisions, while the Modi government has taken so many measures for Dalits.
The government has already stopped implementation of a UGC directive, which resulted in a fall in the number of reserved seats in universities and colleges, and move the Supreme Court to get quota in promotion of SCs and STs government officials started, he said.
Several BJP leaders, especially its Dalit MPs, had also been asking the government to take measures to over-ride the apex court's order.