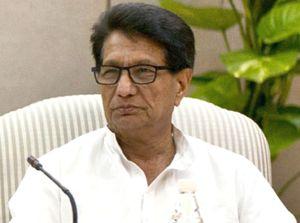 Rashtriya Lok Dal Ajit Singh on Friday attacked the government for rejecting his demand for converting the bungalow occupied by him into a memorial to his father, former Prime Minister Charan Singh, and blamed it for protests over the issue.
"There is a memorial in the name of Lal Bahadur Shastri. The residence in which late Babu Jagjivan Ram used to live was converted into his memorial three to six months back. A memorial also came up in the name of Kanshi Ram. So what is the logic of saying this," he said.
He was replying to a question as to how can his demand be met when the Union Cabinet of then NDA rpt NDA in 2000 itself had cleared a proposal banning conversion of official bungalows of MPs into memorials.
The government has stuck to its guns, saying what was done in this case was not Ajit Singh-specific but as per the rules.
"As far Ajit Singh is concerned, he is my friend. Ajit Singh also met me in between and demanded some more time, which was given. After the stipulated period of 80 days, one more month is given to everyone (to vacate the bungalow). After the lapse of that time frame, the government did not have any other option.
"Hence, the officers did it. This is not Ajit Singh-specific," Urban Development Minister M Venkaiah Naidu said.
The government had on Thursday rejected the demand, saying that the 12 Tughlaq Road bungalow cannot be converted into a memorial as the Union Cabinet in 2000 had banned conversion of government bungalows into memorials in the name of departed leaders.
Singh, who lost the recently held election, was served the eviction notice and electricity supply to the sprawling bungalow was disconnected by the authorities last week.
While his supporters opposed his eviction, threatening to disrupt water supply to Delhi. Leaders including Haryana Chief Minister Bhupinder Singh Hooda and JD-U General Secretary K C Tyagi had demanded that the bungalow be converted into Charan Singh memorial complex in the memory of the Jat leader.
Naidu, had, however stated that all the procedures were followed in serving eviction notices on the former UPA Ministers who refused to vacate government bungalows.
The RLD chief questioned as to why the ministers of the earlier NDA government continued occupying their bungalows for ten years even after 2004 when they had lost power.