In the wake of the fire at an old building in South Mumbai in which two senior fire officers were killed after the structure caved in, the Maharashtra government on Monday said there are over 16,000 cessed buildings in the city that are in need of urgent redevelopment.
Fire engulfed the four-storey 'Gokul Nivas', over a century old commercial-cum-residential building at Kalbadevi in South Mumbai, on Saturday.
When the flames were being doused, the building, which is in a dilapidated condition, could not withstand the force of the water, and crumbled trapping four firemen under rubble.
Two senior fire officers were killed and as many seriously injured in the mishap.
"There were initially 22,000 cessed buildings that were in an extremely dilapidated condition. Out of these, around 2,000 were redeveloped by MHADA and about 4,000 by private developers," Maharashtra Minister of State for Housing Ravindra Waikar said.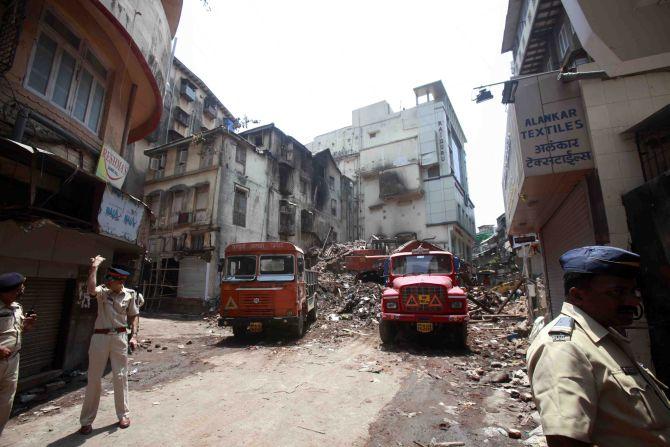 "There are now around 16,000 cessed buildings, apart from a large number of private buildings not only in Mumbai but in suburban areas as well, that are in urgent need of redevelopment. They cannot be repaired," he said. Waikar said the redevelopment plan of these buildings will be ready before the monsoon sets in and the government will ensure that the 70 per cent residents' consent clause does not become a hindrance in the government's plans.
"When the previous government initiated the redevelopment process, they moved residents to transit camps without even starting work on their buildings. These residents are now staying in transit camps from more than two decades," he said.
"People are now ready to face consequences if their building falls, but are not ready to leave their homes. Thus, the government will now immediately start looking for open spaces near these buildings and start construction work for the residents," the minister said.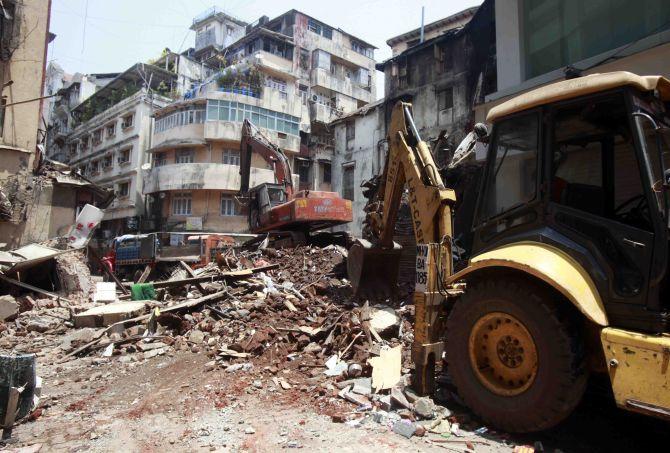 "If we are building good quality homes for the residents, what is the need for 70 per cent consent clause? We will show them good quality homes built so that they readily leave their dilapidated buildings," he said.
In its yet to be released housing policy, the department has proposed amendments in the development control regulations 33(7) to expedite redevelopment of the cessed and dilapidated buildings in Mumbai.
Image: Mumbai civic administration workers clear out the debris of a building at Kalbadavi that was gutted in a fire and collapsed on Saturday. Photograph: Sahil Salvi