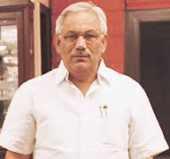 Three persons were taken into custody on Thursday by a Delhi police team in Haryana's Jind district in connection with the murder of Bahujan Samaj Party leader and real estate tycoon Deepak Bhardwaj.

The three, identified as Varinder, Anil and Dharamvir, were nabbed from Khera village by a team of Delhi police, which arrived in Jind this afternoon, Jind's Superintendent of police, Balwant Singh said.

A raid was carried out at a house of a man identified as Narinder of Bakshi Mohalla in Jind, which led the police to the three suspects, DSP Om Singh Balhara told media in Jind.
The police have questioned several people, including the wife of the Delhi-based BSP leader, who was killed two days ago in his south Delhi farmhouse, and also recovered the car allegedly used by the killers in Haryana.
The Delhi police had released a CCTV footage of the attackers.
Sixty-two-year-old Bharadwaj, the richest candidate in the 2009 Lok Sabha polls with declared assets of over Rs 600 crore, was fired upon from point blank range by three men who fled after the incident.