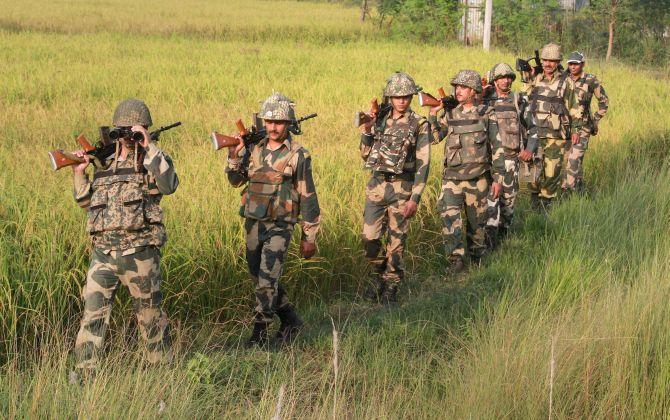 IMAGE: Border Security Force men patrol near International Border in Jammu. Photographs: PTI Photo
The Border Security Force on Friday said it had killed seven personnel of Pakistani Rangers and a terrorist while retaliating to a ceasefire violation on the International Border in Kathua district of Jammu and Kashmir in which one BSF jawan was injured.
Pakistan Rangers, the border force of Pakistan, resorted to sniper attacks at Indian posts at Hira Nagar in Kathua at around 9.35 am, the BSF said.
The Indian border guarding force launched an aggressive offensive against the Pakistani firing, the BSF said in a release, adding seven Rangers and a terrorist were shot dead in the retaliatory firing.
Seeking to suggest that the killings had been corroborated by Pakistani media, the BSF said 'source input' claimed that a media organisation in that country was running a news item about death of 5 Rangers.
The strong response by the BSF came after one of Constables Gurnam Singh was injured in a sniper fire attack by Pakistani Rangers on Friday morning in the same area.
Singh, whose condition is considered to be critical, was evacuated with the cover fire to Government Medical College, Jammu.
This firing from Pakistan was effectively retaliated and that has claimed the casualties of Pakistani forces, the release said.
Friday's exchange of fire came a day after BSF foiled an infiltration bid by 4-6 terrorists, aided by cover fire by the Pakistani troops, in Bobiyan village of the same Hira Nagar Sector.
At least one terrorist was injured or killed in that action by BSF during the intervening night of Wednesday and Thursday as he was seen being dragged by his associates.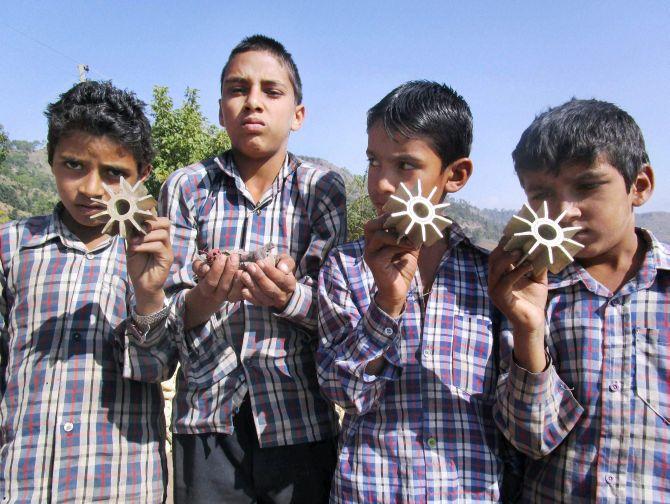 IMAGE: Children show parts of a mortar shells fired from across the LOC by Pakistan in village Panjgrain, Rajouri district in Jammu.
Earlier in the day, BSF Inspector General (Jammu) Frontier D K Uphadayaya said the ceasefire violations by Pakistani Rangers had taken place in two sectors.
There were two ceasefire violations by Pakistani Rangers in Bobiya in Hira Nagar sector of Kathua district and Pargwal belt of Akhnoor sector of Jammu district on Friday.
"We are replying in a befitting manner. We have inflicted heavy losses to them," he said.
He said troops are on alert and mechanism is put in place to foil any attack by Border Action Teams of Pakistan.
"You cannot take any chances. The guard is up. Troops are alert and vigilant and keeping a close watch. It is because of this alertness that we have foiled the infiltration bid," the IG said.
"Yesterday (Thursday) night fire was expected and they have retaliated and in this, one of our jawans has been injured. But we have also given the befitting reply and effected heavy loses on them," the BSF official said.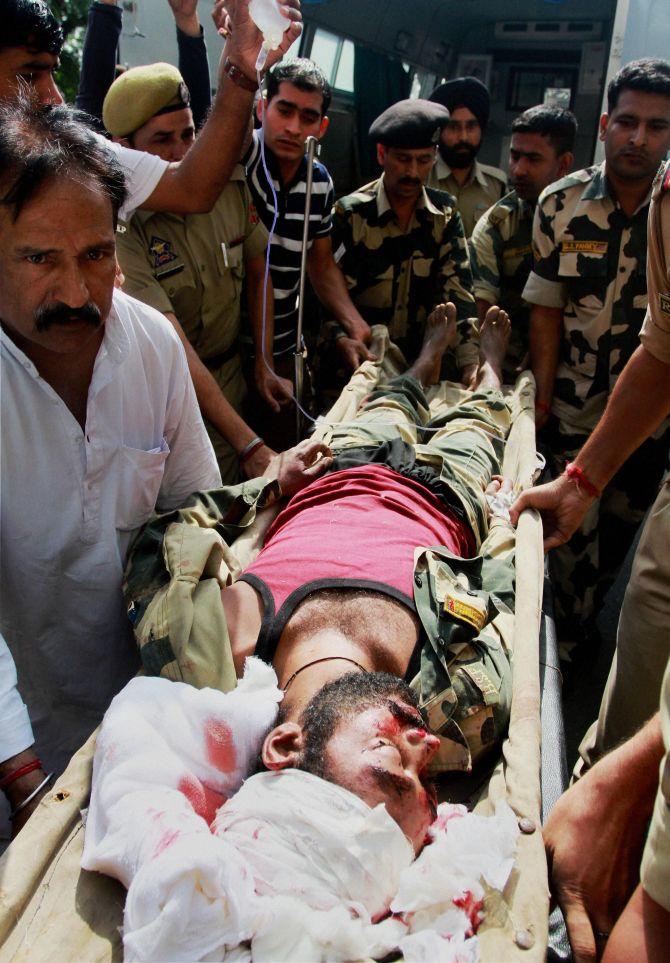 IMAGE: BSF Jawan Gurnam Singh being shifted to GMC Hospital.
"They not only failed to infiltrate into this side but have also lost their lives and I have come to known through sources that one among them has been killed. They came back and befitting reply was given to them," he said.
He said the terrorists are desperate to infiltrate into India and that is why they are trying time and again.
"Jammu is their main target to do some damage over here, which we will not allow. The morale of troops is very, very high," he said, adding, "For me, IB is always very sensitive. We will have to be in strong position to give them befitting reply the way they want the reply."
Giving further details, the BSF spokesman said 'today (Friday) at about 0935 hours (9.35 am), Pakistan targeted a duty mound of BSF in Hira Nagar Sector of Bobiya BoP (Kathua district) and seriously injured young and brave Contable Gurnam Singh'.
Gurnam, a resident of Bhaleshar-Magowali in R S Pura tehsil of Jammu, was mainly instrumental in repulsing infiltration on the intervening night of October 19-20, the BSF spokesman said.
Pakistani Rangers also started unprovoked fire in Kathua, Samba and Paragwal sectors of Jammu and befitting and calibrated reply was given by brave BSF troops, he said.
"Pak Rangers also used heavy 82 Mortar fire in Hiranagar sector and equally retaliated by BSF and firing stopped at 1700 hours (5 pm)," the spokesman said.
"Though one brave soldier of BSF suffered serious injury, morale of troops is very high to counter and defeat any type of activities and aggression from Pak side," he said.