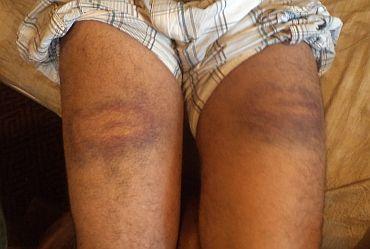 David Devadas, journalist, and author of In Search of a Future, the Story of Kashmir, was beaten by the police in Srinagar on last Monday. Devadas says that he is worried about his life after the incident.
In a letter written to Jammu and Kashmir Chief Minister Omar Abdullah, Devadas said that on September 5, when he was crossing the Rambagh bridge in his car in evening in heavy traffic, he heard a loud bang at the back of his car. His car was hit by another car.
It was a security vehicle which was part of a convoy. One of the vehicles had a car flying the national flag. Devadas claims, "Those who were in this convoy had apparently got the impression that my car was obstructing their way, and became angry with me for this reason."
What followed after was "a terribly upsetting experience" for Devadas. He explains, "How negatively many ordinary citizens of Kashmir experience the State."
Particularly during the disturbed period over the past two decades, the armed forces have too often been the face of the State most visible to the people. Increasingly, over the past few years, it is the Jammu and Kashmir police rather than central forces that have been the leading interface between the State and the people, says Devadas.
After few minutes a traffic policeman stopped his vehicle. They wanted him to leave his vehicle and hand it over to them. He was asked to wait on the road. Devadas requested that he has an appointment with former MP Jaya Jaitley, but the police didn't listen to his plea.
Devadas found that he was illegally detained. He called the Inspector-General of Police, Kashmir Range, SM Sahai. He could not find him. He kept the message with Sahai's assistant who picked up the phone. The policemen kept insisting that Devadas should hand over his vehicle and also go with them to the police station. That was a scary proposal in a city like Srinagar.
In few minutes, more policemen came and started hitting him with hands and metal lathis and abused him. In spite of such serious assault, policemen have filed an FIR against Davadas,  saying that he made a `jaan-leva hamla' (lethal attack) against them when their convoy had passed his car.
Devadas says, "At no point of time during this incident did I resort to using force against police persons, even in self-defence. They further made a baseless allegation that I had a pistol. I do not own any pistol, and I made it clear to them that I was not carrying any pistol. On mentioning that I was a journalist, they threatened that they would teach me a lesson in the police station. Further, they continued to use profanities and issued threats."
Devadas believes that "outrageous allegation" that he possessed a pistol was police's excuse to use physical violence against him.
Devadas, who lives in Kashmir since long, knew that it's not wise to accompany policemen to police station. He insisted that he should be checked right there with help of witnesses.
"I requested him to search me on the spot in front of passers-by who were witnesses before taking me anywhere. I told him the men in the security detail had accused me of having a pistol and that I therefore wished for the veracity of this allegation to be established in front of independent witnesses from the public." says Devadas.
However, he was not given any choice. Nobody agreed to search him. He was forced to sit in police vehicle. "Even after having volunteered to board the vehicle, the police personnel, instead of respecting my action, seized me by my hair and pulled, pushed, kicked and forced me into the back of the jeep. My shirt was torn across my torso at this point. In the jeep, I was further beaten, abused and kicked, while my head was held down at the floor of the jeep by my hair. I was unsure of my fate, and what would follow inside the police station."
When Devadas was bleeding in the police station, various policemen kept asking him where his pistol is.
Only when the deputy superintendent of police came the assault stopped.
He was taken into his room. Here Devadas claims that the station house officer completely twisted the facts, and fabricated a false story stating that that Devadas was beaten on the street by people.
Devadas has written to CM Abdullah, "Sir, I am deeply distressed at my discovery thus of the ease and impunity with which guardians of the law utter bald-faced falsehood. I am also concerned, sir, that I was not provided with a copy of my medico-legal examination at the Bone and Joints Hospital at Barzulla. I was taken to this hospital directly from the police station that night."
Devadas alleges that when he was beaten by police mercilessly policemen taunted that, "Get your home ministry to withdraw the disturbed areas order" that gives him such power.
Devadas has written to CM that, "He also told me angrily that what had happened to me was nothing compared to what Kashmiri journalists have experienced. Further, he told me that this sort of thing happens all over India; he knows this, he added, since he has been an 'international police officer."
Devadas has requested that, 'There is an urgent need to address and check the untrammeled abuse of powers by the police personnel, and other arms of the State, in Jammu and Kashmir. In relation to this incident, a strict action may be taken against these erring police personnel, who unleashed violence on a civilian without any provocation or any legal reason."
Since last 25 years, Davadas has been writing about conflict in Kashmir when he was working for India Today, Economic Times, Business Standard and Gulf News
To do research for his book he left his regular job and moved to Kashmir. Currently, Davadas is associated with Jamia Millia Islamia and the Nehru Memorial Museum and Library.
For Devadas life will never be same again. He writes to Abdullah that, "After this experience, I am apprehensive about my safety. Through that evening, it became clear to me that rules, procedures and court guidelines are treated with contempt by the police force. I would be grateful, sir, if you would kindly advise me on how best to proceed and whether you consider it safe for me to remain in Kashmir."
On advise of fellow journalists, Devadas didn't file any FIR, although the police has filed FIR accusing him of 'lethal attack' on them.
Image: David Devadas shows the injuries he sustained after policemen thrashed him last Monday