Vice President Michel Temer was sworn in as new President.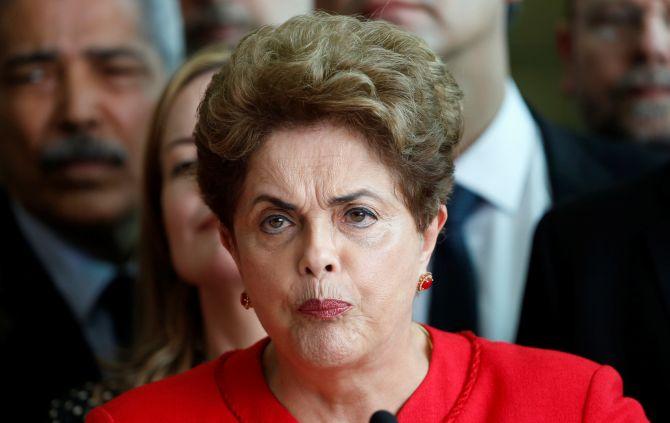 IMAGE: Brazil's former President Dilma Rousseff speaks at the Alvorada Palace in Brasilia on Wednesday. Photograph: Bruno Kelly/Reuters.
Brazil's President Dilma Rousseff was ousted from office on Wednesday by the senate, ending a year-long fight that had paralysed South America's largest nation.
Soon after Rousseff was removed in an impeachment trial, 75-year-old Vice President Michel Temer was sworn in as the country's new President.
Rousseff's ouster was widely expected, the decision was a key chapter in a colossal political struggle that is far from over.
The opposition needed 54 of the 81 senators to vote in favor for her removal and they got a landslide victory with 61-20.
However, they fell short of the majority vote needed to bar her from public office. The 42-36 vote could not reach the mark of 54 votes needed.
Rousseff branded the vote a 'parliamentary coup' and vowed a comeback by her Workers' Party.
"They decided to interrupt the mandate of a president who had committed no crime. They have convicted an innocent person and carried out a parliamentary coup," she said.
'Today is the day that 61 men, many of them charged and corrupt, threw 54 million Brazilian votes in the garbage,' Rousseff tweeted minutes after the decision.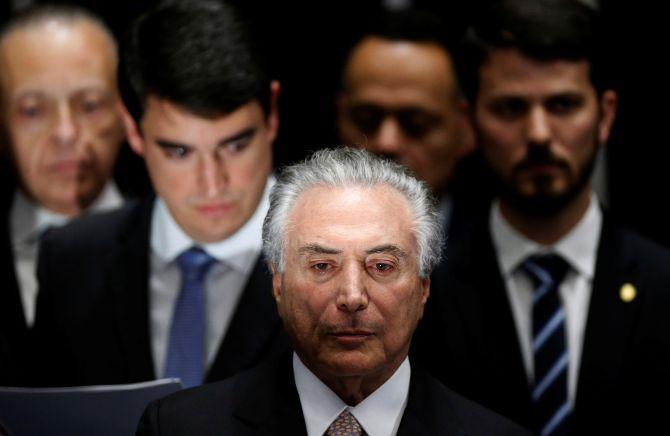 IMAGE: Brazil's new President Michel Temer attends the presidential inauguration ceremony. Photograph: Ueslei Marcelino/Reuters

Rousseff was Brazil's first female president, with a storied career that includes a stint as a Marxist guerrilla jailed and tortured in the 1970s during the country's dictatorship. She was accused of breaking fiscal laws in her management of the federal budget.
She won re-election in 2014, garnering more than 54 million votes.
In the background of the entire fight was a wide-ranging investigation into billions of dollars in kickbacks at state oil company Petrobras.
The two-year probe has led to the jailing of dozens of top businessmen and politicians from across the political spectrum, and threatens many of the same lawmakers who voted to remove Rousseff.
Rousseff argued that many opponents just wanted her out of the way so they could save their own skins by tampering with the investigation, which Rousseff had refused to do.
Many lawmakers and Brazilians nationwide, meanwhile, blamed Rousseff for the graft even though she has never been personally implicated. They argued that she had to know, as many of the alleged bribes happened while her party was in power.