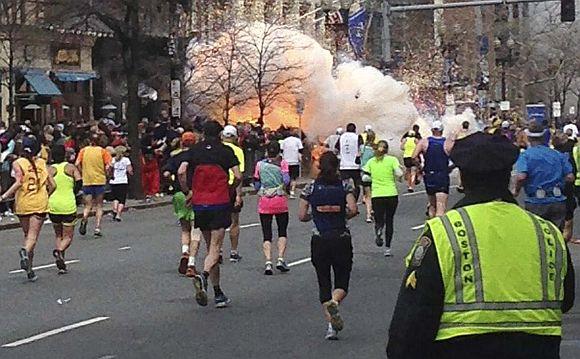 A woman, who witnessed the horrific Boston bombings, was reminded of the deadly 2008 attacks in Mumbai, a city she was visiting when Pakistani terrorists went on a rampage killing 166 people.
Stephanie Douglas, had come to cheer her friend Linda Claire Willits at the Boston Marathon when two bombs exploded, killing three people and injuring over 140 on Monday.
The two blasts occurred within seconds on a sidewalk along the 42-kilometre route of the marathon, where thousands of people had lined up to cheer on the marathoners.
Douglas couldn't help but think of November 2008 when she was in Mumbai when deadly shooting and bombing attacks carried out by the Lashkar-e-Tayiba claimed 166 lives, including that of six Americans.
"This is twice I've been in two cities when this kind of thing has been happening," she was quoted by CNN as saying. After crossing the finish line of the Boston Marathon, Willits texted Douglas, who was waiting down the street at the bar at the Mandarin Oriental hotel. "I'm on my way," Willits said.
As Douglas prepared to celebrate, a small explosion went off, followed seconds later by a thunderous boom that tore through the area. "It was so strong the bar filled up with smoke and chairs tipped over," Douglas said.
"I saw people -- it was like they were on a trampoline literally flying through the air," Douglas said. Smoke poured into the bar. People began shouting that another bomb had been found, and everyone scrambled to escape. Outside, one man's legs were blown off, and he kept trying to stand up, she said.
Willits, who was en route to meet Douglas, said, "The whole ground shook, and I knew right away it was a bomb." "I saw people who had lost their limbs," she said. Douglas knew Willits was somewhere in the vicinity when the blasts went off. After all, she'd gotten the text from her.
"Everything that could go wrong was going through my head," Douglas said. Minutes seemed like hours. Finally, Willits' daughter managed to get hold of both of them by phone and coordinated their reunion. Willits waited at a street corner for nearly an hour.
"We were both already crying and just embraced each other," she said. "It was a meltdown," Douglas added.
"This has been a traumatic event," Willits said between tears. "But I just feel like we can't stop doing things that we enjoy doing, because then the terrorists win."