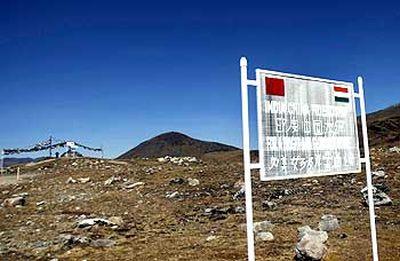 Prime minister likely to visit Beijing, Shanghai; also President Xi's home province, Shaanxi. Nayanima Basu reports
Prime Minister Narendra Modi is likely to visit China on May 14 to 16. Border dispute resolution and enhancing bilateral trade and investment ties would be the top issues and both sides would be great discussing.

India has been concerned at Chinese President Xi Jinping's visit to Pakistan this month. President Xi made some largescale economic commitments and the prospect of greater connectivity between India's two neighbours, belligerents in the past, have made Delhi uncomfortable.

China is one of India's leading trade partners. Bilateral trade between both countries crossed $65 billion in 2013, resulting in a wide trade gap of $35 billion.

As a result, trade and investments will be one of the highlight of the visit.

During President Xi 's visit to India last year, both sides had signed 12 agreements. Of these, one was on a five-year trade and economic development plan.

Under this agreement, both sides had agreed to narrow the trade gap while China committed to invest $20 billion over a span of five years.

"There has not been much progress, though, on how both sides will undertake concrete measures to close the gap. Besides, the areas or sectors in which the investment will be made have not been clarified yet. So, trade and investment will remain one of the primary agendas, beside strategic issues, although the optics of the visit will be quite high," said Rajrishi Singhal, senior fellow, Gateway House.

Modi is expected to visit Beijing and Shanghai. As a reciprocal gesture, he may also visit President Xi's home province, Shaanxi, a senior official told Business Standard. The Chinese President had visited Ahmedabad.

Modi and Xi have had three bilateral meetings so far.

The prime minister is also expected to raise the issue of India having some access to China's 'One Belt One Road', expected to pass through the Indian Ocean, under China's Maritime Silk Road initiative.

India is also planning to ask China to remove the several non-tariff barriers it imposes on Chinese pharmaceuticals. Officials said, Modi might also push for greater services trade.

Commerce secretary Rajeev Kher made a case for increasing trade with China. He said in order for Indian exporters to penetrate deeper into Chinese markets, the government is undertaking a three-pronged strategy.

According to a report -- 'Accelerating Indo-China Economic Engagement' -- by the CII, India's trade deficit with China is expected to reach $58 billion by 2018.

China is also keen to have a free-trade agreement with India, which the latter had been reluctant to talk about fearing an onslaught on India's industry. India and China are also part of the talks on Regional Comprehensive Economic Partnership.

Xi has also invited India to be an observer in the 21-nation APEC (Asia Pacific Economic Cooperation) trade group. The APEC is seen as an alternative to the mega regional trade pact -- TransPacific Partnership.

There has been little progress on the development of the industrial parks. The Chinese government had last stated that it will be setting up two such parks in Gujarat and Maharashtra. But it is yet to announce concrete investment proposals there.

Regarding strategic affairs, both sides are expected to seek an early settlement to the controversial boundary issue. This was one of the main talking points when external affairs minister Sushma Swaraj and foreign secretary S Jaishankar visited China in February.

Swaraj had proposed a six-point action plan to enhance India-China bilateral relationship.