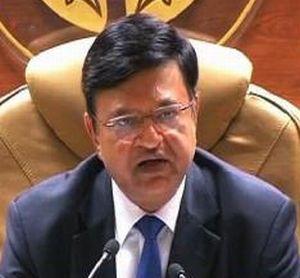 Ruling out cold as the reason behind children's death in relief camps in Muzaffarnagar, Uttar Pradesh Principal Secretary (Home) AK Gupta had shocked many by saying that if people could die of cold then nobody would have survived in Siberia.
The government's fact-finding committee says of the 34 child deaths between September 7 and December 20, only 10-12 took place in relief camps of which four were due to pneumonia. The rest died at private or government hospitals where their parents took them, it said.
The committee said there was no medical negligence and that no one died of severe cold or any epidemic in the camps. But it has also recommended that the government should improve the facilities in these camps.
It's not a surprise that the learned public servant is drawing flak for his comments -- the latest one coming from Kashmir CM Omar Abdullah, who said that Gupta must be left in the cold with lesser clothes to understand whether people could die of cold or not.
Many feel that Gupta's callous remarks not only smack of arrogance but also goes on to show the abysmal levels that political sycophancy can stoop to.
If you think his comments are insensitive, lodge your protest by clicking the 'Boo' icon below:
Image: Uttar Pradesh Principal Secretary (Home) AK Gupta
Photograph Courtesy: ANI