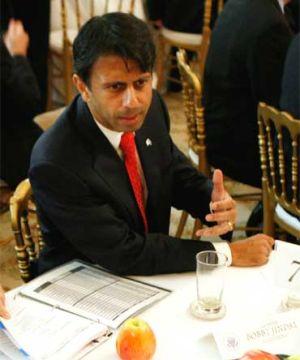 Indian-American Bobby Jindal on Wednesday night announced his candidature for the 2016 US presidential elections, making him the 13th Republican aspirant to target the White House in this election cycle.
"My name is Bobby Jindal, and I am running for President of the United States of America," Jindal said in a posting on his website. Simultaneously he also tweeted about it.
The 44-year-old Louisiana Governor is scheduled to address a public meeting in New Orleans to formally announce his decision and the reason for running for US president.
Jindal is the first Indian-American ever to enter the race of US presidential election. He is the first Indian American to have been elected as a Governor of a US State. A two-term Governor from Louisiana, Jindal is the vice chairman of the powerful Republican Governors Association.
"I'm running for President of the United States of America," Jindal said on Twitter and thereafter he appeared on various American media networks to present his views.
Before becoming the Governor of Louisiana, he was elected to the House of Representative twice, thus making him the second ever Indian-American elected as a Congressman. Ami Bera from California is the third Indian-American to be elected to the Congress.
In a series of videos posted on his website, Jindal tells his family, "We have decided we are going to run for president." He adds, to cheers: "If we move into the White House, you can have a puppy."
His announcement, however, has failed to generate much enthusiasm among the Indian-Americans because of his recent statements in which he sought to distance himself from being an Indian-American.
Repeating his views, Jindal, an Oxford-educated son of Indian immigrants, on Tuesday featured on the Federalist Radio Hour and gave his perspective on the state of the union.
He expressed frustration that President Barack Obama has "been trying to divide us...by gender, by race, by geography, and by religion."
"We're not hyphenated Americans anymore. We're not African-Americans, Asian-Americans, Indian-Americans or rich and poor Americans," he asserted.
Pointing to his own melting-pot story, Jindal urged Republicans to call for an end to division.
The Democratic National Committee was quick to criticise Jindal.
"Wait, which governor is Bobby Jindal? Is he the governor with the nine credit downgrades? Or the one whose state is last in the region for job growth? Or is he the one where his state's tuition climbed by 48 per cent?," said Holly Shulman, DNC National Press Secretary.
Image: Louisiana Governor Bobby Jindal