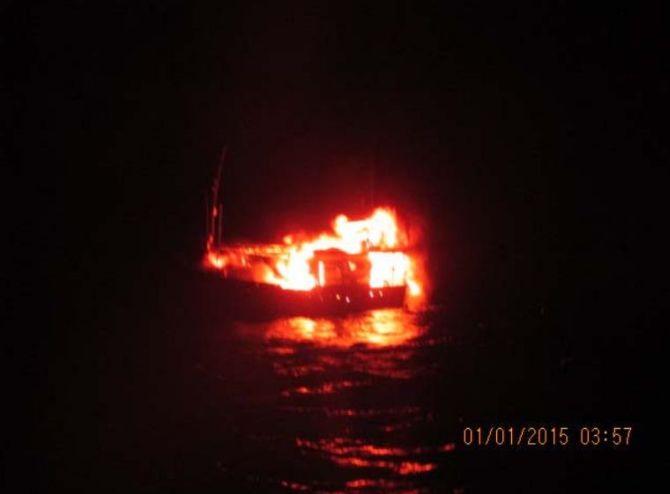 The Coast Guard has increased surveillance along the Gujarat coast, after a Pakistani boat blew itself off Porbandar on New Year's Eve.

"The entire Gujarat coast is under surveillance with around six to seven aircraft continuously monitoring it. The Coast Guard is also vigilant," said Inspector General Kuldip Singh Sheoran, Commander of Coast Guard Region (North-West).

"We are trying to recover something from it but haven't found anything yet. It is a matter of investigation and the intelligence agencies are looking into it," he added.

Earlier on Friday, a possible terror attack was averted when a suspicious fishing boat carrying explosives in the Arabian Sea was intercepted near the India-Pakistan maritime boundary, approximately 365 kilometres away from Porbandar.

A defence ministry statement said that as per intelligence inputs received on December 31, a fishing boat from Keti Bunder near Karachi was planning some illicit transaction in the Arabian Sea.

A coast guard ship warned the suspicious vessel to stop for further investigation of the crew and cargo; however, the boat increased its speed and attempted to flee the maritime boundary.

The coast guards operation continued for
nearly one hour and the Coast Guard ship managed to stop the fishing boat after firing warning shots.
The four persons on board disregarded warning shots from the Coast Guard and tried to hide themselves in the lower deck of the vessel; thereafter they set the boat on fire, which resulted in an explosion.
Ultimately, the boat burnt and sank in the early hours of January 1, including all the people on board who could not be saved or recovered.
Pakistan cries foul


Meanwhile, Pakistan on Saturday rejected reports that a Pakistani fishing boat said to be carrying explosives was intercepted by the Indian Coast Guard.
Foreign Office Spokesman Tasnim Aslam categorically denied the reports which said that the incident occurred on the night between December 31 and January 1, some 365 km off the coast of Porbander, generating strong speculation that it was reminiscent of the 2008 Mumbai terror strikes.
Aslam told the media that no boat from Karachi had gone to the open seas.
Pakistan defence ministry officials also rejected the reports and said the Indians were "trying to divert attention" from the killing of two Pakistan Rangers on December 31.
"It is part of Indian propaganda to tarnish the image of Pakistan," a defence ministry official told PTI.