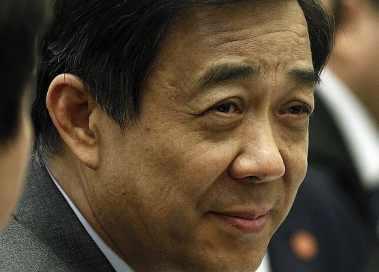 Chinese Communist Party leader, Bo Xilai who was expelled from the party on Friday to face trial on a host of charges including sex, sleaze and corruption has also been removed from the membership of China's legislature, National People's Congress.
The Standing Committee of Chongqing Municipal People's Congress has decided to remove Bo Xilai from his official post as deputy to the NPC, an official announcement  said.
Bo, former head of the Chongqing municipality and a contender for top posts of the Communist Party, which convened its key Congress on November 8 to select the new set of leaders, was expelled from the party.
He had been sacked from all posts early this year after the scandal involving his wife Gu Kailai's involvement in the murder of British businessman, Neil Heywood in November last year.
The scandal came to light after the police chief of Chongqing, Wang Lijun defected to the United States consulate in Chengdu and sought asylum, fearing reprisals from Bo for launching investigations into Gu's role in the murder of Heywood.
While expelling Bo from the party, its leadership also formally granted permission for his judicial prosecution to face various charges, including covering up the role of Gu in the murder of Heywood.

Image: Bo Xilai