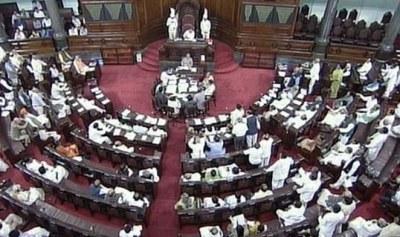 The Congress on Thursday accused the Bharatiya Janata Party-led government of "criminal conspiracy" in allowing businessman Vijay Mallya, facing probe in several loan default cases, to fly out of the country, as Finance Minister Arun Jaitley sought to corner the main opposition party by saying the loans were given to him during the United Progressive Alliance rule.
"My charge against this government is that when so many agencies were interrogating him (Mallya), why was he not arrested, why was his passport not confiscated," Leader of Opposition Ghulam Nabi Azad said in Rajya Sabha.
Raising the matter during Zero Hour, Azad said everyone knew Mallya "could flee any day" and the investigating agencies should have seized his passport and taken steps to restrict his movement.
Maintaining that Mallya lived a "luxurious life" and had bases in several countries, the Congress leader said Mallya is not a "needle" and moves around with an entourage and expressed surprise how he managed to leave the country despite a Central Bureau of Investigation "Look Out Notice".
"My allegation is that this government is party to this criminal conspiracy of allowing him to escape and leave the country. In this criminal conspiracy, this Government should be made party and the Supreme Court should take note of this.
"Without the participation and without the active support of this government, he could not have left the country. That is my allegation," Azad said, adding that "one had escaped, the second Lalit Modi (Mallya) should not be allowed to escape".
Countering the charges, Jaitley said the banks have been asked to recover "every penny that is due", adding that the first banking facility was given to Mallya and his companies in September 2004 which were renewed in February 2008.
The Leader of the House further said the accounts were declared non-performing assets on April 30, 2009 and these debts were restructured and more facilities extended in December 2010.
"In what circumstances were the loans given is an issue of investigation and the CBI is investigating," he said.